Memorial floristry
Exotics, proteas, natural articles, twigs and leaves, sisal, cones, nature editions, burial rests, fruits, supplies, wreath flowers ...
More categories
Exotic plants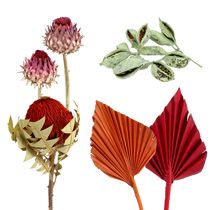 The exotics in commemorative floristry from all over the world include noble flowers, plants and palm leaves, some of which are natural, bleached or dyed.
The unusual forms of flowers and leaves in our latitudes are small works of art of nature. For floral arrangements, funeral wreaths, grave arrangements and coffin decorations, these noble plants are ideal. They give mourning jewelery a majestic and dignified ambience.
Artichokes, palm leaves, reed flasks and exotic dried flowers for funeral wreath and...
Grave arrangement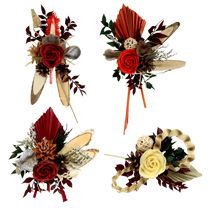 Grave rests in our assortment for commemorative floristry are already finished dried flower arrangements that can either be further processed or used as finished parts. For further processing natural conditions can be put on funeral wreaths, grave decorations and urn jewelry.
Grave pads are suitable for funeral bouquets, urn decorations, grave arrangements and much more.
Double bouquets with or without fir branches and ornate grave shells can be made so easily and with little effort. These glued and...
Grave decoration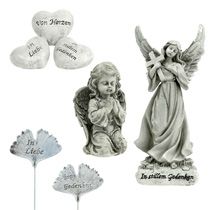 To decorate graves is widespread in our culture. The individual design of the last resting place of a loved one is also an important part of the mourning work. With grave decorations and floristic funeral arrangements, the attachment to the deceased can be expressed particularly well. Even for a beloved pet, you can order our individual store for graves our online store.
In the funeral floristry figures for commemoration, planters for funeral arrangements and decorative ceramic objects are important style...
Grave vases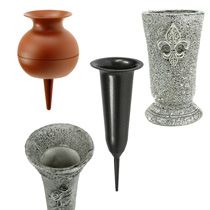 As part of the mourning process and the preservation of memory, bouquets and bouquets are always part of the funeral culture. With the grave vases of Floristik24, your online store for memorial floristry and mourning decoration, you ensure that the flower arrangements also last as long as possible. You will also find a large selection of vases for the tomb, which score with their fine chiselling as well as their simplicity.
First, the gray grave vases should be mentioned, which are once decorated with a rose...
Loofah & Moss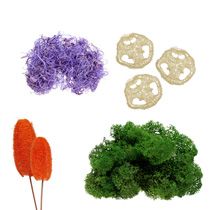 Loofah and Moose are perfect as deco elements for commemorative floristry. But also for any other uses such as room decoration or as a table decoration these natural materials come into their own.
In our assortment florists and decorators will find various natural fibers and dried plants for further processing in the Trauerfloristk and for decorative purposes of all kinds. Sisal fibers can be ordered online in many vibrant colors and pastel shades. Natural jungle moss and Iceland moss in green and beige tones...
Pine cones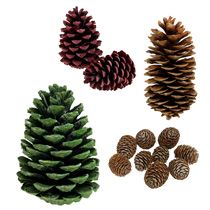 Pine cones or cones for Advent and Christmas decorations
Pine cones or cones exist in an endless variety of colors, shapes and sizes and are very popular decorative accessories in the field of floral art. With their unusual shapes, they will be the focus of your floral arrangements. Pine cones most commonly found in Advent wreaths, Christmas arrangements and funerary compositions.
You will find in our online shop cones of oval or round shape and others with pointed ends. All were rigorously selected...
Planters for the grave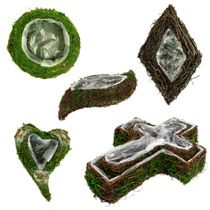 In times of mourning and contemplation, it is important for us to garnish the graves of our loved ones in a dignified and elegant manner. With Floristik24, the online shop specializing in funeral decorations, we have something to say about your compassion and your condolences. When words fail us, what better way to convey a message of support than an elegant tombstone or a beautiful floral arrangement? You will find in our pages funeral cushions, lozenges and wave-shaped plant supports that are made almost entirely...
Proteas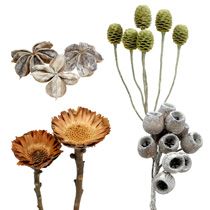 Proteas are widely used in commemorative floristry as dried flowers for floral arrangements, funeral wreaths, coffin or grave decorations. The Protea is a majestic plant with exceptionally beautiful flower heads and a versatile appearance. It comes from South Africa and belongs to the genus of the silver tree family.
Repens, Grandiceps, Plumosum and Compacta Rosette in bright colors and majestic shapes
In our online shop, we offer proteas in a variety of forms. From the closed, cone-shaped flower to...


In our collection for the commemorative floristry you will find a large selection of dried flowers and natural products for noble mourning jewelery. Under the Exotic category you will find bleached and dyed exotic mourning flowers, kept in white shades and featuring a range of bleached natural products. In addition, we offer a selection of elegant Proteen and natural pads as ready-made arrangements for further processing.
In funeral and commemorative floristry, the greatest sensitivity is required of florists. A funeral wreath or floral arrangement as grave decorations or urn jewelry should adequately express the appreciation of the bereaved for a deceased person.