Decorative fruits artificially
Decorative fruit, deceptively real-looking, suitable for decorations of all kinds, also as a craft accessory.
More categories
Bakery decoration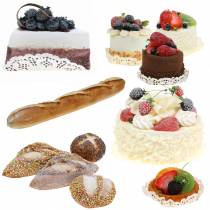 At the sight of these sweet temptations and freshly baked bread your mouth will water! There is nothing in a hurry than entering the shop and buying delicious cakes or cakes! If you are looking for a lifelike decoration for your bakery and pastry shop, you are guaranteed to find it in the Floristik24 product range.
Choose from exquisite bread specialties! There is everything your heart desires and the master confectioner conjures up in the cake counter, in an appetizing replica. We have decorated artificial...
Deco apple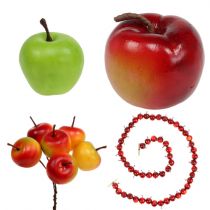 As diverse as the natural model is our selection of artificial decorative apples. Whether you celebrate Thanksgiving with a richly filled fruit basket or want to symbolize eternal life on a Christmas arrangement: our decorative apples are guaranteed to be an effective adornment for your interiors. For each of your ideas you will find in the assortment of Floristik24, your online shop for decoration and craft supplies, certainly the right product. How about apples in Real Touch optics? These imitate their natural role...
Deco fruit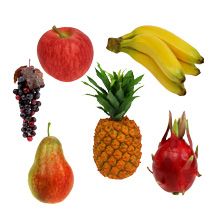 You can use it to fill up a fruit bowl, or decorate a dining table artfully or decorate a garden party: Of course, we are talking about the high-quality decorative fruit, which you can order here online at Floristik24! Here you will find the exact and realistic replicas of well-known and exotic fruits: discover in our assortment an apple, a banana and a pear as well as a dragon fruit, a papaya and a prickly pear. It also has some fruit a modern touch-real surface that makes every art fruit look even more lifelike....
Deco vegetable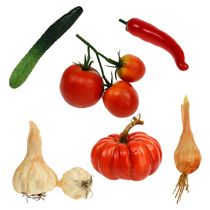 Whether as a decoration for a barbecue party with friends, as a room decoration for the kitchen or appetizing table decorations for the living room: The high-quality vegetable decoration by Floristik24, your online shop for high-quality decoration materials, not only looks your originals deceptively similar, but is also easy to clean and always fresh. You will find great art vegetables such as an eggplant, a potato, garlic and fine decorative mushrooms. This will allow you to create a suitable decoration for the...
* all prices incl. 20 % VAT.,
excl. shipping costs
Crossed out prices correspond to the previous price.
Decorated fruits decorate any room in no time and are especially welcome in the kitchen or in the dining room. In addition, artificial fruits and deco vegetables with their strong colors exude a liveliness that brightens the surroundings. At Floristik24, your online shop for decoration and craft supplies, you get a large selection of decorative fruits and vegetables, which are both at first and second look indistinguishable from the originals. Here you will find from artificial apples in various sizes and colors on artichokes and mushrooms to a dragon fruit and prickly pears fruity decoration for all seasons and deco ideas!

You'll be surprised how quickly some organic vegetables add value to your kitchen. Take, for example, red, green and yellow peppers, decorative carrots and onion tubers or even a vegetable mix in the net. Due to the high quality of the processing, the decorative vegetables feel very real due to the new Real-Touch feature.

The great thing about it is that the vegetables do not spoil even at high temperatures and always keep their bright colors. In principle, you can use the artificial fruits and vegetables as decoration throughout the year.

Or they simply create decorations adapted to the season. For a fall decoration, for example, pick some deco acorns, chestnuts, a colorful pumpkin assortment and then combine them with apples and oranges. In addition, we also offer fruit and nuts on the stem in our decoration shop, which you can easily incorporate into an Advent wreath or an autumn arrangement.