Silk and artificial flowers
Silk flowers, silk flower arrangements, textile plants, artificial plants, silk flower bouquets, artificial flowers
More categories
Artificial plants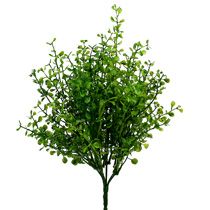 If you want to create a fresh and green room decoration, then do not miss our wide range of artificial plants! The high-quality and noble artificial plants complete every decoration idea and bring in a nice momentum of radiance. So you will receive in our online shop from a bushy ivy tendril on an elegant boxwood branch to a shapely Callablatt an extensive selection of deco plants for your room decoration, wall decoration or table decoration.

Thus, you can...
Ball shaped plants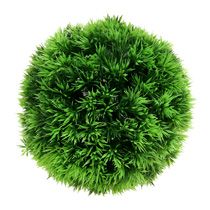 Are you looking for a chic green room decoration for your home? Then you will like the artificial plant balls and balls from our range! You will find different sizes of high-quality artificial plants in our online shop and can implement your decoration ideas according to your ideas exactly. Whether you need a medium-sized book ball, a small grass ball or a large deco ball of purple flowers - here you will find it! The picturesque decorative balls are visually...
Cacti & Succulents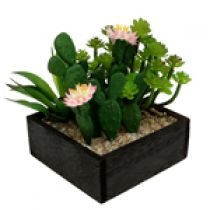 Sometimes it just has to be an exotic decoration! The elegant cacti and succulents from our assortment are always an eye-catcher as high-quality artificial plants and indispensable for a mixed summer decoration. In our online shop you will find a nice selection of artificial cactus plants for almost any decoration idea. Whether you are enchanted by a strong fat hen, a flowering cactus or a pretty aloe - the exciting selection offers the right deco plant for every...
Door wreath & wreaths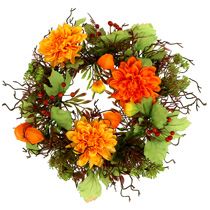 Is there anything better than a radiant door wreath or wreaths of flowers that you can use as a table decoration, wall decoration or window decoration? Discover our select range of wreath decorations, which are made of high-quality artificial plants, fine silk flowers and real branches. Whether you are looking for a graceful christening wreath, a colorful autumn wreath or a spring flower wreath - the wreaths from our online store offer something for every...
Exotic flowers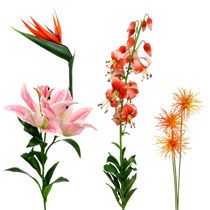 Create a dreamlike flower arrangement yourself
Give your decoration that certain something with the exotic flowers of Floristik24, the online shop for professional decoration articles and creative craft ideas! Here you will find perfect imitations of fascinating exotics such as an artichoke, a strelitzia, a calla or a hyacinth. The high-quality silk flowers are partly packed as large individual pieces and partly as bundles, which opens up many possibilities for...
Flower bouquet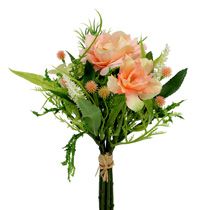 Whether a christening, a birthday or a company anniversary - no celebration comes without a bouquet of flowers! Here you will find high-quality artificial silk flowers and artificial plants that are tied together to form bouquets. The range of our online store includes a large variety of different artificial flowers, which are suitable as flower arrangements for every mood and every occasion.

So you have the choice to be inspired by provocative art roses,...
Foam and silk decoration roses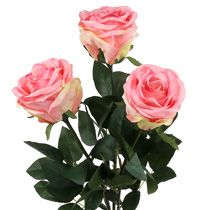 Foam roses and decorative roses can be found in our shop in a particularly large selection: normal or mini size, single or bound and in many different colors. So there is the right rose for every taste. Foam roses are made from a special foam plastic that not only makes the roses look real, but also feels like them. But the tender and lovingly shaped roses all have one thing in common:

They are ideal for crafting and decorating.

Our Foam Roses are...
Garden flower & meadow flower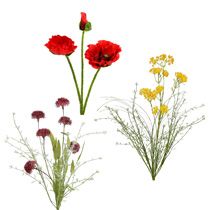 Be enchanted by vigorously blooming garden flowers and meadow flowers in winter! The high-quality and radiant silk flowers of Floristik24, the online shop for sensational decoration and creative craft supplies, not only look deceptively real, but also bring a lot of joy in your living room. Here you will find artificial flowers such as perfectly shaped sunflowers, elegant dahlias and magnificent hydrangeas. But also deco-grass, tulips and snowdrops are waiting for...
Garlands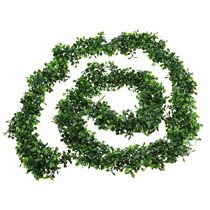 You would like to redecorate your hallway, but you lack the inspiration? Then these artificial plant garlands and flower garlands will solve the problem for you! Whether made of artificial boxwood or colorful autumn leaves - these high-quality artificial plants are always a successful eye-catcher as room decoration and wall decoration.

In our online shop, you will find a large selection of garlands, which consist of fine artificial leaves and radiant...
Orchids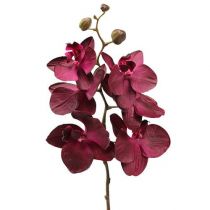 Grace, beauty, elegance - these terms embody orchids like no other plant.
The magnificent exotics were cultivated already 2,500 years ago in the Chinese Empire and were considered the queen among the flowers. The Aztecs also planted orchids in the gardens of their sanctuaries.
Orchids are distributed worldwide. Its 1000 genera with up to 30,000 species produce an incredible variety of shapes and colors. Most orchids grow on trees in their homeland to get more...
Silk flowers and artificial plants in our range are perfectly formed copies of their natural models. As a decoration for weddings and festive occasions, as table decoration at home or in the catering trade, the artfully designed textile flowers give a nice ambience.

Here you will find a large selection of different varieties, made of genuine silk, plastic and high-quality textiles. The art and silk flowers are available individually, as a ready-bound bouquet of flowers, as a pot plant or artificial flower bouquet.

Textile flowers, silk flowers and artificial plants as bouquet, bouquet or individually for decorations

The selection of single specimens ranges from roses, hydrangeas and chrysanthemums to allium, cymbidium and lilies to strelizia and orchids. Individual silk flowers and artificial flowers are ideal for further processing into floral arrangements, bouquets and decorations. Artificial plants in pots such as white agapanthus, variously colored orchids, blue, yellow and red pansies not only look deceptively real. Unlike their natural counterparts, they last forever.

Bound bouquets of artificial roses, silk flowers chrysanthemums, tulips, ranunculus, black sprigs and chess flowers are ready for use as table decorations. You can also order colorful mixed artificial bouquets of silk flowers and textile flowers as well as lawn mats for Easter and summer decorations here. Especially for weddings, the artificial rose hearts, the rose leaves labeled "Just Married" and the foam foam miniskirts are charming decoration materials.