Floral foam
Foam products for all occasions
More categories
Floral Foam ball
Table decoration, window decoration, baptism, wedding, mourning: Floristik24, your online store specializing in DIY and decoration material will meet all your needs by providing you with biodegradable floral foam balls or top quality dry in a wide variety of shapes and colors! Wet Foam products have excellent absorbency and therefore offer your fresh flower creations maximum longevity. For permanent compositions, opt for dry mosses that you fill with silk flowers or dried flowers that you can enjoy throughout the...
Floral Foam black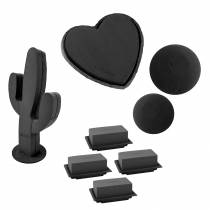 For decoration enthusiasts and fans of creative hobbies: the manufacturer OASIS® presents its new innovation, the black floral foam. Floristik24, your online store specialized in the latest in home decoration and DIY items, now offers a large number of products from this new series "All Black". Whether it's to give a special elegance to your arrangements or to create springtime compositions with a touch of extravagance - black floral foam is an unparalleled world novelty that comes in a multitude of ways. All...
Floral foam heart
Whether for a wedding reception or as a sweet surprise for Valentine's Day: At Floristik24, the online shop for creative crafting ideas, you get beautiful hearts made of floral foam in the proven premium quality of OASIS®! The foam hearts provide the basis for beautiful floral arrangements, which you can make according to your wishes. Here you will find decorative hearts in different shapes and sizes as well as for different purposes. So some hearts can be set up, some hung up and others laid down. You will also...
Floral Foam Ring & Wreath
If you would like to make a table wreath or a dried round flower arrangement yourself, you will find on Floristik24, the online shop specializing in creative hobbies, a beautiful range of rings and crowns of superior quality stamped OASIS ®! We offer you supports of different sizes and colors and in a large number of models. They will serve you on many occasions, such as at a wedding where you use our double suction ring to make an arrangement to fix on the hood of the car of the bride and groom. It will be just as...
* all prices incl. 20 % VAT.,
excl. shipping costs
Crossed out prices correspond to the previous price.


Preformed floral foam for decorations, table decorations, wall decorations and mourning jewelery

Especially for the wedding floristry, we offer bridal bouquet holders with straight and ergonomically shaped handles that fit perfectly in the hand and keep the flowers fresh for a long time due to the wet floral foam. Heart-shaped floral foam for table decorations and as a stand-up give a wedding decoration a touch of romance. Plug moss for the classic car jewelery is the Autocorso or the car double ring the first choice. With the matching vacuum sucker in the assortment flower arrangements can be securely fastened on wedding cars and on all other smooth surfaces, for example as a wall decoration. Round and square foam foam is available in different sizes for small to very elaborate table decorations. Wet foam can be ordered with or without cast pad.

In addition to the floral foam rings and wreaths, the heart-shaped floral foam templates are also suitable for the funeral floristry. Individual grave decorations can be designed with floral foam for floral arrangements in a cross shape and picture frames with an outer floral border. For urn arrangements and urn jewelery we offer half rings, which can be placed or hung on urn walls. Elegant potpourri works best with dry floral foam.
Floral foam or moss is the basis for floral arrangements, which have many uses as decorations, wedding jewelry, mourning jewelry and as a gift. Our wide range of Steckmoos includes floral foam in various forms as wet floral foam for fresh flowers and dry floral foam for dried flowers.