Wire art and craft
Deco wire and craft wire for floristry and home decoration
More categories
Aluminum wire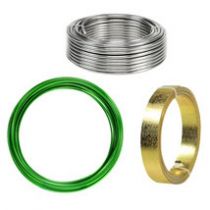 Discover the diverse craft ideas that you can implement with aluminum wire! At Floristik24, the online shop for crafting materials and decoration, you will receive a wide selection of aluminum wire, aluminum flat wire and wire screws in various sizes and colors. For example, you can order green, gold, silver, red and black aluminum wire cheap online. For example, make a nice hanger for a window, a cute flower for a table decoration or a Christmas ball for the Christmas tree from the binding wire.
You can also...
Craft wire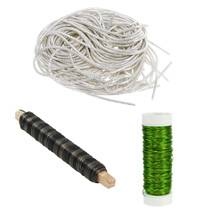 Creative hobbyist beware: At Floristik24 you can order a large selection of colorful craft wire in many shapes and colors online! Here you will find, for example, fine myth wire in gold, brown, green, silver, red, copper and pink. You can then use the decoration wire to tie your bonsai, to decorate small pieces of jewelery and also to decorate a flower decoration. With the bouillon wire and the bouillon effect wire you can also put chic, modern accents in your home, because these special wires are pre-twisted into a...
Decorative pins & decoration beads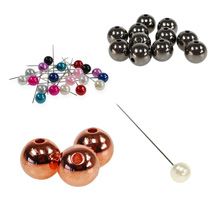 Beautiful and extremely practical: with the decorative needles and decorative beads by Floristik24, the online shop for creative hobbyists with a claim, tablecloths can be stuck and decorated at the same time as well as original jewelery ideas can be realized. Here you can find pearls in different sizes and colors like apple green, red, gold, orange, pink, silver and turquoise. These beads also have holes and can then be used to craft jewelry such as bracelets and necklaces as well as to decorate garlands and...
Flower bind wire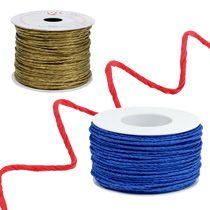 What a versatile crafting material! The bind wire from Floristik24, the online shop for professional craft supplies, basically consists of a metal wire and was then tightly wrapped in colored paper. So you can not only give your plants hold when growing vegetables or tying the workpieces with wood, but also make little figures yourself and refine window decorations!
For example, take a bind wire in red and make a small heart out of it, which you can use as a table decoration or as a decoration for a...
Flower binding wire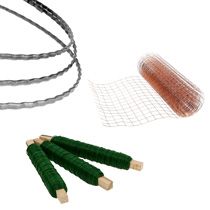 Design your own floral decorations just like a pro yourself! With the Flower Binding Wire from Floristik24, the online shop for professional craft supplies, you can make a door wreath, a table arrangement or even a flower decoration for celebrations. Take for example the high-quality wave rings, which are also called Kranzreifen, in order to create a wreath pad on which you can tie vine branches, pine branches, cones, dried plants, figures, candle holders, moss, floral foam and straw.
And if you then use a...


The wide product range offers all the materials needed in professional floristry. Be it winding wire or pintle for tying wreaths or special Gerbera wire for fixing a single gerbera flower, there is just the right tool for every application. For the production of flower arrangements and table decorations wire rings, Romans, bead needles or wire useful utensils for the attachment of the individual parts.

Decorative wire products for creative design in floristry


In addition to wire goods that serve the attachment and are not visible in the finished product, there are a variety of wires that are used for decorative purposes. Lametted wire or angel hair, bouillon wire or bouillon effect wire can be deformed as desired and draped around moss patties, flowers or other decorative items.
The repertoire of aluminum wire in various colors and diameters, as a round wire or flat wire covers all requirements in the everyday need for professional florists. Wire made of copper, gold, silver or colored - the variety of designs for the crafters and florists is almost unlimited. From ivy needles to hexagonal braids to the finest fairy hair, our high-quality decorative wire products perfect any flower and plant jewelery.
Flower wire, sticking and iron pins are among the basic equipment of florists, but also hobbyists find in our well-stocked online store a wide selection of wire products that are versatile.