Metal buckets & Zinc vessels
Metal buckets Zinc vessels for planting and decorating
More categories
Buckets and bowls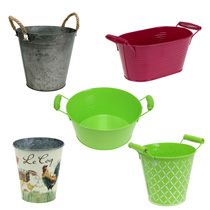 Decorate your rooms with the decorative buckets and bowls from Floristik24, your extensive decoration shop number 1, and let yourself be inspired to creative decoration ideas! Here you will find a large selection of colorful decorative buckets and simple metal buckets as well as pretty tin bowls, which are colored in all the colors of the rainbow. With that, you can then, among other things, present colorful early bloomers beautifully and in a contemporary way.
For example, the buckets with grooves and handles...
Metal decoration
With the modern and shapely metal decoration by Floristik24, the online shop for innovative decoration ideas, decorate your home in an instant with original metal objects! The extraordinary metal jewelry radiates both elegance and style and can be used for different decorations. The extensive selection offers you from chic trays for hanging over small metal bowls with feet to fine metal figures peculiarities that you will not find everywhere.
For example, use a metal tray and hang it over a worktop in your...
Watering Can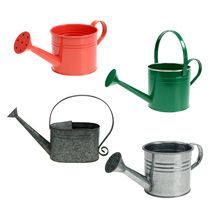 Whether as a spring-like room decoration or as a smart decoration for your terrace: the chic watering cans from Floristik24, the online shop for creative decoration ideas, can be used as a table decoration, wall decoration and garden decoration and can be used by the round shape of the belly as original planters. Quite real each jug has a handle and a shower head, which also serves only the decoration.
Among other things, you will find our shop different colored sets with colorful, small watering cans that...
Give your potted plants a new home with the beautiful metal buckets and zinc vessels from Floristik24, the online shop for home decoration and craft supplies! You will find many differently designed buckets and bowls, which present every plant as a chic planters charming. Discover the decorative watering cans and the original metal decoration that will allow you to create sophisticated floral arrangements indoors and outdoors. Everyone has their own money when it comes to design and color: the metal planters are designed in antique, classic and contemporary shapes and colors - sometimes with print, sometimes with pattern, sometimes colored and sometimes simply with a vintage look!

The buckets and bowls are available in the shapes oval, round or shaped as a cup. Some have handles, other decorative rope handles and some have been designed quite simply without anything. For example, the zinc bowls are not colored and either finely polished or slightly washed in white and thus look like antique bowls, which exude a rustic country charm. These can then be planted with pretty summer flowers and then presented on a terrace, a window sill or a chest of drawers. And the plant buckets in the pretty pastel shades bring a fresh zest for life into every room that makes everyone shine.

With the sweet little deco watering cans succeed you exceptional flower decoration and delight not only hobby gardeners! All have at least one handle and can be used either as a planter or directly as a plant pot. This will loosen up your plant decoration original and show boring flowerpots the red card!

If you want to give your creativity in terms of planting really free time, then grab the unusual metal decoration! Here you will discover trophies, crowns, teapots, amphorae, bags and trays, all made of metal and suitable for the outside and inside. You can use these planters for herbs, flowers, balcony and indoor plants. Use it to create a sensational garden decoration or to make your balcony with a flower lamp!