Ribbons & gift ribbon
Ribbon ribbons, gift ribbons and decorative ribbons for florists
More categories
Mesh trim ribbon and deco lace
Give your gifts and decorations an elegant and creative finishing touch by using the beautiful knit ribbons of Floristik24, your online shop specializing in the most original decorating ideas! You will find here ribbons of different colors and sizes and offering various meshes. Large square mesh ribbons are the most common, a range complemented by cobweb woven gift ribbons and wire-reinforced mesh bands.
You will find here plain ribbons of light or darker color but also two-tone ribbons that will allow you for...
Christmas ribbons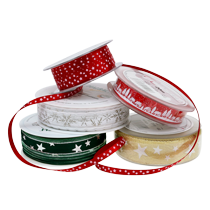 Whether gift packages, a table runner, the Christmas tree or an Advent arrangement - with these noble Christmas ribbons every Christmas decoration becomes a real eye-catcher! At Floristik24, your online shop for professional decorative items, you will find a large selection of fabric, silk and organza strips that are especially suitable for Christmas. The assortment reaches from different colored silk ribbons, which are printed with stars in all shapes and colors, up to monochrome, classic ribbons, which look also...
Cord ribbon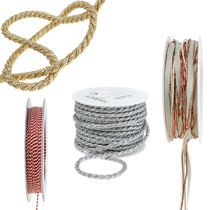 Ever made a beautiful idea with a cord beautiful decor ideas? Then it's high time! Floristik24 offers you as a professional online shop for high quality crafting supplies a wide selection of different cords for crafting, decorating and decorating in different colors, thicknesses and materials.
For example, here you will find wide and shiny cords to make a beautiful table decoration or to tie together a fabric curtain lovingly. In the meantime, small decorative ropes can be used very nicely, for example...
Curling ribbons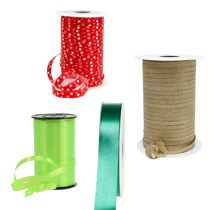 Ruffled Ribbon, also called Polyband or Striped Ribbon, is the classic for gift wrapping. From the daily work of Floristen gift ribbon is indispensable. Be it to wrap gifts pretty or to decorate bouquets, flower arrangements and other floristic works - Kräuselband is a versatile and irreplaceable helper in floristry everyday. Gift ribbons we offer you in many different colors and looks. Combine several narrow gift ribbons in different colors or use the extra wide ribbons for your packaging and decorations. Curling...
Decorative plain ribbon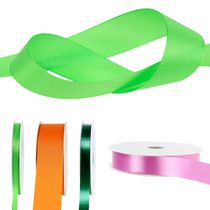 Whether in red, green or blue - a high-quality, single-colored deco ribbon by Floristik24, the craft shop for creative minds, beautifully refines every table decoration, every gift package and every wall decoration! Here you get plain colored decoration ribbons in colors like yellow, orange, purple or pink, which are also available in different widths! Each tape is wound on a practical roll and can be rolled out and portioned easily.
For example, you can use a red ribbon for a Christmas table decoration and,...
Felt wool & ribbons
Wool and felt come back in fashion with young and old! Floristik24, your online shop for high-end DIY accessories, now offers a wide range of decorative ribbons, cords, yarns and felt flowers, all in a variety of colors and sizes. .
Discover, among other things, neutral, patterned or floral felt strips and enjoy a wide range of possibilities. The cords and strings of felt are declined in several widths, what to dress as well of the pots of flowers that vases or planters, but also to make all kinds of...
Jute ribbon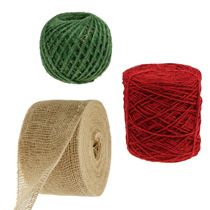 Hardly any natural material has been as popular as the jute fiber for centuries! At Floristik24, the online shop for high-quality crafting material, you will find a jute ribbon and a cord made of jute, which is both dyed and offered in their natural color. The jute bands can be found in different widths, while the jute cords are wound up like cords and used as such. The color selection is also broad and based on the one hand on classic colors such as red and green and on the other hand is complemented by upbeat...
Lace ribbon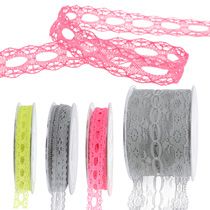 With the richly decorated lace ribbon by Floristik24, the professional online shop for hobbyists and professional decorators, you get a special fabric that never goes out of style as a classic and has been adapted to the needs of the present! Already since the 15th century, the finely designed and slightly transparent fabric is known and was then used as today for decorating tablecloths, self-sewn clothing and curtains. For your creative handicraft and decoration work, you will receive top ribbons in different colors...
Organza ribbons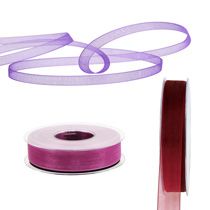 A noble, transparent fabric paired with fresh colors and high-quality workmanship - these are the characteristics of the elegant organza borders of Floristik24, your deco-online-shop for creative craft materials! Here you will find the decorative ribbons in different widths and colors, which are sometimes made with a selvedge for high stability. The bands are very easy to roll out, bind and always seem airy and loose. They are particularly suitable as decoration for festive occasions such as a wedding, a birthday, an...
Silk ribbons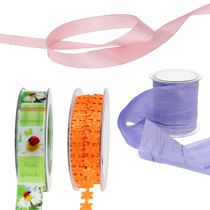 They shine lightly, feel velvety and refine every decoration: Of course, we are talking about the fine silk ribbons from Floristik24, the online shop for high-quality decoration and crafting materials! You will find a large selection of colored, semi-transparent and patterned silk ribbons as well as crash ribbons and lace ribbons. Many of the ribbons are also available in different sizes and colors, so you have the right jewelry for every occasion.
For example, you can use the bands in the classic colors, such...
Table runners & table ribbon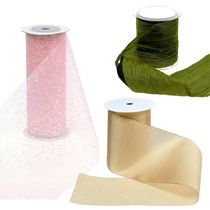 Whether for a wedding celebration, the Christmas season or just as a complement for the home decoration - the table runners and table tapes by Floristik24, the online shop for textile jewelry and decorative items, will always provide an elegant touch in your home! The extensive range consists of fabric ribbons, which are held in bright colors such as turquoise, bordeaux, moss green or lilac as well as in fine shimmering such as gold, silver or champagne. In addition, there are the decorative ribbons in different...
Wreath ribbons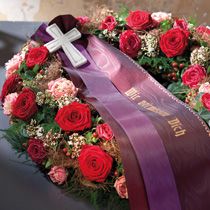 Ideal for community parties, jubilees and big ceremonies, the crown ribbons of Floristik24, the online shop dedicated to DIY and decoration items, are made of high-quality moiré fabric and are therefore of great elegance. You will also find in our pages funeral ribbons used by floral professionals to prepare funerals and various commemorations. Finally, we offer satin ribbons in the colors of different countries that allow you to decorate your home on big game nights such as for the next World Cup football. All our...
* all prices incl. 20 % VAT.,
excl. shipping costs
Crossed out prices correspond to the previous price.


Decorative ribbon and gift ribbon made of silk, felt, wool, tulle and many other materials From mesh ribbons to silk ribbons, wool ribbons and tulle ribbons to crimped ribbons - numerous materials that can be combined in any combination guarantee endless decoration options that meet every individual customer request.

Decorations made of pot bands, felt tape and wick thread in cheerful colors are particularly suitable for summer floral arrangements or presents. With one- or multi-colored, patterned or printed gift ribbons and decorative ribbons, you can conjure little works of art out of presents that are almost too good to unpack. Grinding pressure for bow ties, garland ribbons and sashes Especially for funerals and funeral ornaments we offer noble garland ribbons, mourning ribbons and funeral ribbons in black or colored. On request, the wreath ribbon can be printed in different fonts and colors and finished with fringes. Also nationality bands in the colors black-red-gold and sashes in different color combinations you can order here. Of course we will print your bows, wreath ribbons, sashes and ribbons with personal texts. Use the handy loop configurator to individually design your mourning ribbon, sash or ribbon with text, picture or photo. A selection of funeral sayings, wreaths, condolence letters and funeral quotes can be found here.
Decorative ribbons and fringes give floral arrangements, wreaths and bouquets that certain something and are indispensable to florists. Whether for decorations and flower arrangements on anniversaries, company parties, weddings or funerals - so numerous and different the occasions, so versatile are the colors, patterns and materials of ribbons and fringes in our floristry online store. Here you will find a wide range of ribbon, gift ribbons and deco ribbons especially for florists.