Wickerwork & baskets
Hanging Baskets Cornucopias Planters Baskets Flower cuffs Heart planting baskets Heart cuffs Wreaths Tooth baskets Bread baskets
More categories
Baskets & Planters
Especially in spring colorful flowers in a pretty plant basket look twice as nice: a good reason to rummage through our basket & planter baskets. As a renowned online shop for decoration and florist supplies, we offer a wide selection of decorative baskets, planters and plant cushions for a wide range of applications. Whether round or square, with handle and without, whether peeled or dyed colorful - our varied assortment has the right product for everyone.
A rustic decoration for home and yard can be...
Decorative & braided balls
Whether in strong natural colors or colorfully colored - the decoration balls & balls by Floristik24, the decoration shop for creative craft ideas, round off any room decoration in the truest sense of the word! Here you will find balls of vine branches, rattan and paper wire in different sizes, colors and quantities. There are also decorative balls that are offered both individually and in a special color mix. Decorate with it decorative bowls, wreaths, tables,...
Flower cuff and Flower Holder
With a high-quality, funnel-shaped flower bouquet from Floristik24, the online shop for decoration and craft supplies, you can, for example, design a colorful tea bouquet yourself! As a craft material, a bouquet holder for bouquets is irreplaceable and gives every flower container the right shape. You will find practical sisal cuffs, Biedermeier cuffs and vine cuffs with which you can make fantastic floral arrangements for every occasion. Also note the sweet...
Sisal articles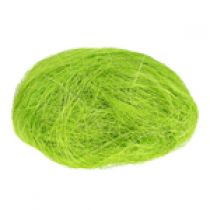 Sisal is called the fibers from the leaves of some Agave species. The fibers of sisal agave are today one of the most important natural fibers in the world. The use of fiber began in the 19th century and reached its heyday in the 20th century. In addition to ropes, ropes, yarns and carpets, Sisal produces products that you can use for crafting, decorating and floristry. The large selection of colors and materials in our shop guarantees that you will find the right...
Wreaths
With the handmade and high-quality wreaths from vine branches, chip, willow branches, grass and moss from Floristik24, your decoration shop for creative hobbyists, you can perfectly complement a natural and charming room decoration! Here you will find table-wreaths and wreaths of different materials, in different sizes and colors, which you can use for almost all occasions.

You can use each wreath of natural materials either unadorned and create a deco in...
Wickerwork can be found in our floristry online shop in a variety of variations. In floristry and in the garden basket and wicker goods can be processed in many ways. In the living room, the baskets and decorative items made of natural materials are stylish home accessories.

Wicker baskets and coarse wicker baskets with handles or side handles are available in a variety of sizes, shapes and colors. Filled with fruit, decorative items or flowers, they are a beautiful eye-catcher in living rooms, on the balcony and terrace. You can also use wicker, vine and sisal baskets as a gift basket or planter.

The wicker and Spankorbwaren as the orange or natural-colored Spankorb in our Floristik online shop are suitable for further processing in the floristry or in the nursery as well as for many other uses. Whether plant ring, boat, oval planter, round or rectangular plant basket - the variety of shapes of wicker for planting is almost unlimited.

Wicker decorative items and wicker baskets for picnics, for planting, as a gift and for everyday life on the balcony or terrace

Grape vines, braided sisal hearts to fill, different sized balls and wreaths from vine are perfect decoration for table decorations, gifts or window decorations. They can be perfectly combined with other decorative materials.

Wicker baskets are not only beautiful, but as a bread basket, shopping basket, potato basket or picnic basket useful companion in everyday life. Furthermore, we offer grapevines such as
muehlenbeckia and Raffia for further processing for florists and gardeners.