Summer decoration 2020
More categories
Back to school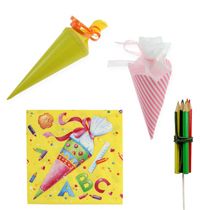 Are you ready for school this summer and are you looking for decoration ideas for back to school? Then you are exactly right with the decoration Onlineshop Floristik24! Here you will also find funny gift ideas for the beginning of the school of your loved ones. How about, for example, a money-box in football design? So you can effectively pack a money gift.
You want to make a nice table decoration for the beginning of the school? Order our different plugs for school enrollment online: For example, slide...
Birth & Baptism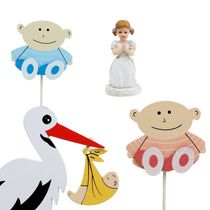 Do you want to organize a nice party for the birth of your child? Then go quickly to Floristik24 and discover our articles dedicated to births and baptisms! Among them are great classics such as storks on a stem carrying a baby that will serve as interior decoration or pikes with flowers but also small pink and blue bears for a table decoration of the most original. Our range of products will allow you to mount a beautiful decoration for a prenatal party and to welcome your guests in an atmosphere entirely dedicated...
Garden stick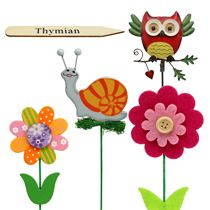 Use our colorful garden decorations to decorate your garden and decorate your plants with originality. Floristik24's decorative shop offers adorable animals on spades that will brighten up your garden and form lovely little gifts to offer around you. You will find in our assortment a large selection of animal figurines such as owls, frogs, as well as beautiful butterflies.
With such decorations, setting up your summer decor for your tables or exteriors will be child's play: simply insert the metal or wooden...
Hanging decoration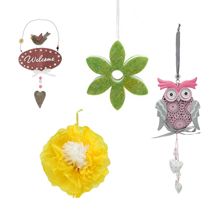 Are you looking for a colorful and cheerful decoration for hanging? Then you are exactly right here! Discover, for example, radiant paper flowers and colorful felt flowers, which you can conveniently order online at Floristik24.co.uk. For example, use this hanging decoration to create your window decoration and experience how the sunrays harmonize with the bold colors! So you can put up almost any living room and bring the joyful summer mood with the chic window decoration in your home.
And if you are still...
Lantern & tealight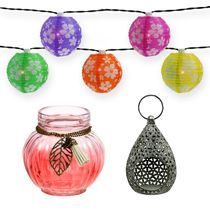 No garden party can do without you: A lantern and a lantern always provide a cozy ambience and are the center of every garden decoration! At Floristik24 you can now conveniently order a trendy and colorful garden lighting online, effectively decorating both your terrace and your balcony. And if you want to have some atmospheric candlelight in support of the garden lantern, then you will certainly find in the large selection of lanterns!
So, from a pink glass light over a hanging lantern to a lantern with a...
Maritime decoration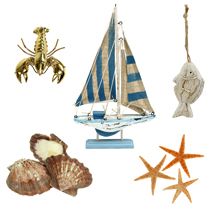 A refreshing sea breeze in your home complacent? The maritime decoration in Floristik24's shop gives your home a holiday feeling in no time with summer, sun, beach and sea! Here you can order real shells, starfish and sea urchins as well as anchors, a small sailboat and a lighthouse for decorating cheap and convenient online. Make a chic table decoration for the patio table with some mussel granules, a wooden tray in the maritime look and a decoration figure like the golden crab - or develop a nice, cheerful...
Scented candles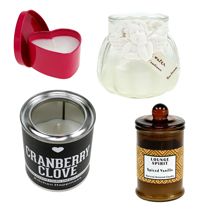 If you want to know how the summer smells, then you will like these scented candles! At Floristik24 you can order fantastic candles online, which as part of the table decoration will fill any room with a pleasant and beguiling scent. Natural rose water in some candles creates a fragrant scent of roses, while with other table candles you can find sensuous vanilla scent or cherry smell as well as exotic fragrances such as cinnamon, clove and cranberry.
For example, set up a scented glass with candle in the...
Sprinkle table decor
Would you like to buy sprinkle deko online this summer? Then you are exactly right in Floristik24 online shop! You can fall back on a variety of motifs and materials to use our decoration to sprinkle your very individual crafting ideas to realize.
For example, design homemade invitations for your summer party by sticking cute colorful butterflies on the card. You can also decorate the place cards for your birthday party in this way. Or start a call to work together in the allotment: Stick some garden tools...
Summer decoration
Discover the wide range of summer decors at Floristik24 - the online shop for seasonal decoration! Here you can order decorative umbrellas, trend candles, table decorations, floating candles and watering cans online. Decorate, for example, a flower pot with a Häkeltopf and combine it with a colorful Deko beetle for a sweet Tafeldeko. Or put a stretched red decoration umbrella in the corner to your palm tree!
Let your creative decoration ideas run free for your home and decorate your windowsill with a funny,...
Windmill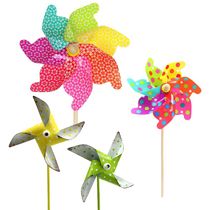 What could be better than feeling a light breeze in the heat of summer? Liven up your garden this summer with a colorful windmill! Order conveniently online at Floristik24 and get the colorful wind chimes to decorate your home.
A colored windmill will give you pleasure on a variety of occasions: whether you are looking for a suitable decoration for your summer party, decorating your child's birthday party or want to decorate your garden happy - windmills are always fun as a garden decoration!
Would you...


Suitable for the season, you will find many, unusual ideas for giving, decorating and deductibles:

Shells, filigree crochet pots, summer bags, flower plugs, straw hats, wax balls and fun accessories to start school. Invite friends to the garden party or go picnicking in a park. Here you will find everything that makes summer festivals even more memorable: colorful napkins, funny decoration plugs and much more.
Is there anything better than a warm summer's day? Yes, the summer nights. For the evening, we offer beautiful accessories that make a balmy summer night even more romantic. With our summer decoration you can transform your garden, your terrace, your balcony or - if it should rain - your living room lightning fast into a summer resort, where you can unwind, relax, relax and enjoy. Choose the decoration that suits you: modern, romantic, classic or elegant. In our delicate crochet pots with the filigree floral pattern you can put colorful flowering plants. The waxball lanterns are particularly suitable for this purpose, which give a magical light. Romantic mood is guaranteed. Let yourself be inspired by our decoration ideas.
Summer is the best time of the year. Take advantage of every single sunny day, as the cool autumn days arrive early enough. We offer a large selection of decoration ideas for the hot season, so that the summer is so beautiful again.