Floristry tool accessories
Dispensers & Appliances, Adhesives & Adhesive Tapes, Supplies
More categories
Adhesive tapes, special glues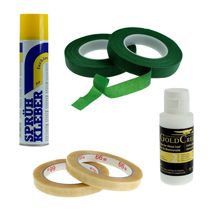 If you want to conjure artful floral arrangements, arrangements and table decorations, you also need the right equipment. Adhesives and adhesive tapes are indispensable in the daily work of florists and gardeners. Here you will find various adhesives for various uses in floristry or for the experienced hobbyist. The adhesives and adhesive tapes in the floristry online store are also not only suitable for professional use but are also ideal for hobbyists, schools and club activities.
Special glue, glue guns and...
Dispensers & Accessories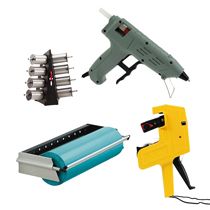 Here you will find scrapers and equipment for the basic equipment in a floristry business or nursery as well as tools that florists and gardeners need for their daily work. Our film and paper dispensers are available in different sizes and variants. Depending on the furnishings and the size of the store, wall dispensers, table dispensers or under-counter dispensers can be ordered. Whether multiple rolls mounted on the wall, as single rolls under or on a worktable - our dispensers guarantee an optimal installation in...
Flower packaging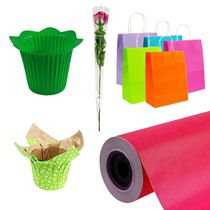 Whether for your colorful bouquet of flowers, your fresh floral arrangement, your potted plants or simply for your herb pot - high-quality films and packaging for the flowers, which look really chic, are always needed! As an important component of the floristic need, you can emphasize your fresh cut flowers by first-class wrapping with stretch film, flower decoration foil, cuff paper, flower silk, a flower bag or also crepe paper and transport it practically!
Accessories can also be found in our online shop...
Gift bags & tote bags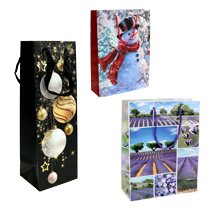 Whether you want to effectively package and present a gift or to transport your purchase in a practical and stylish way - you will receive gift bags and carrier bags from Floristik24, your online shop for craft supplies and decoration items, in various designs and sizes! Here you will find gift bags for Christmas and Easter, bottle bags for New Year's Eve and also gift bags for the birthday! You can also customize the pretty bags very flexibly to your gifts - whether it is a jam jar, a champagne bottle, books or a...
Jubilee and birthday numbers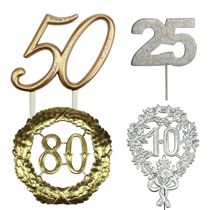 Without a doubt, the sumptuous decoration of the party location is part of a splendid anniversary celebration, and of course one must not be missed: the jubilee number. No matter whether you want to celebrate a birthday, a silver wedding or a company anniversary, you will find the right number for every occasion in our online shop. In addition, we offer you the anniversary numbers in various versions, such as for sticking and in the form of wreaths. Thus, you can customize the party decoration according to your...
Professional floristry tools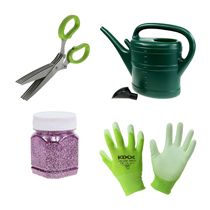 Watering cans, labels, tape, knives, straw wreaths and much more - here florists and gardeners can find necessities for their daily work with flowers, plants, floral arrangements and decorative items. As a single article or in a practical storage package, you can order useful work equipment online at reasonable prices.
Clever aids are support tubes and tubes for filigree flowers with long stems. Protected by the hose or tube prevents the delicate stem from breaking off or buckling. For example, a gerbera hose...
Spray, varnish, paint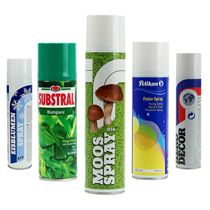 Whether for dyeing, decorating or for a longer shelf life - with special sprays the most different effects can be achieved. Here you will find numerous sprays to effectively refine flowers, arrangements, wreaths and decorations. Color Sprays can be used to create subtle as well as unusual color accents. Color sprays such as moss spray can intensify natural colors of flowers and floral arrangements without appearing artificial. Bauble sprays give bouquets and floral arrangements a glittering effect.
Fragrance...
Straw wreath and hay wreath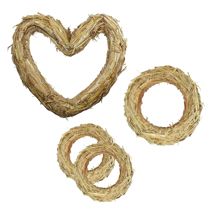 If you want to make a door wreath, a Valentine heart or an Easter wreath yourself - a straw wreath and a hay wreath are the most suitable for this! The offered straw wreaths and hay wreaths from our online shop consist of the natural products straw and hay and are ideal for decorating, crafting and decorating. So you can make a wedding wreath, anniversary wreath, birthday wreath or just a wreath as a wall decoration for your home.
And as a table decoration for your family celebration, garden party, christening...
Design, craft and decorate like the professionals with the large range of floristry supplies from Floristik24, the cheap online shop for your decoration ideas! Here you will find professional tools such as garden shears, slivers, florist's knives and hot glue guns as well as supplies such as gardening gloves, herb scissors and watering cans. Also discover the gold and silver items that you can use to round off your creations - this is complemented by an effective special spray! You can then sprinkle your arrangements with a beautiful lacquer shine and with an exciting color like gold or even help to restore moss in a plant decoration to the new shine.

And that is not all! Use Anniversary numbers to decorate your birthday party, silver wedding and also a gift package or birthday cake. From a straw wreath make a nice birthday wreath and wrap it around with a special tape. In combination with spray glue, you can then attach graceful and noble natural decorations to your wreath, creating a personalized decoration for every occasion.

In our online shop, you will always find the right gift bag in red, orange, nature or even different, cute Christmas themes. Wine bottles, books and glasses with home-made jam will also fit in there. And if you would rather give away a wonderfully fragrant herb pot or a potted flower, then grab a chic, colorful planter and a pot cuff, with which you can decorate your flower gift even further.

There are a variety of high-quality products waiting for you, which you can order conveniently and cheaply online. Our professional shipping system guarantees a timely delivery and if you still have questions and suggestions, just contact our friendly and competent and customer service!