Natural products
The versatile range of natural products
More categories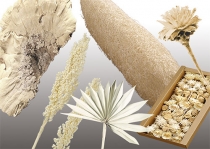 With the dried and bleached natural items from Floristik24, the online shop for decorative natural products and craft supplies, decorate your vases and flower arrangements in an elegant way! The color of the dried plants ranges from beige to white and so each of them brings a pretty, elegant flair into your premises. Here you will find both dried exotic fruits from the African continent as well as fine, dried rootstocks and branches from the homeland as well as exceptionally shaped bark pieces from India. You can then also discover dried flowers, which, in combination with other bleached plant pieces, will result in original table decorations and will certainly inspire you to many crafting ideas!
For example, with a bright Vlei reed, chic Mitsumata deco branches and a large luffa on a stick, you can make a pretty vase decoration that adorns your living room with the right floor vase. You can also complement the long dry plants beautifully with real and colorful flowers. This...
Do-it-yourself hobbyists beware: our tree grates are a versatile crafting material for the realization of all your nature decoration ideas! Our assortment contains a variety of different wooden discs for all kinds of projects. For each of your ideas you will find in the assortment of Floristik24, your online shop for decoration and craft supplies, certainly the right product. The material wood exudes a special warmth, which in the interior decoration of many felt very pleasant. Get a piece of forest into your home! From naturally grown branches or tree trunks, we have cut off a slice and dried it gently so that you can enjoy the rustic warmth of wood decoration at home. Each disc is unique! You will notice cracks, annual rings and irregularities. This underlines the rustic charm of these special natural products. Wood works. Therefore, the natural products are subject to certain fluctuations, and may vary in shape, color, size, width, length and diameter of the specified...
* all prices incl. 20 % VAT.,
excl. shipping costs
Crossed out prices correspond to the previous price.


For example, you can decorate white-washed cocoa fruits in a pretty decorative shell and decorate them with a Christmas or two balls for a Christmas table decoration. You can also place the individual components directly on a table runner and then supplement with the dried Kalixpilzen, lotus and noble Moneta leaves.

But as a durable and elegant room decoration, natural products are also excellent: For example, you can place a palm leaf bound to the ring on a coffee table, a sideboard or a chest of drawers and then add an atmospheric candle. Many natural products are also very subtly colored, so you can use, for example, orange-colored poppy heads, a Cane Spring in red and other decorative leaves for spring-like vase decoration.

As versatile as nature are all natural decorative items and you can use them to make an original wall decoration, a festive garden decoration and a cute floral decoration or even refine a pretty gift idea. Stay creative and create your very own and individual room decoration out of these natural items!
Refine your decorating ideas with the high-quality natural products from floristik24, your online supplier of high-quality craft supplies, and be inspired by the multitude of natural products! Here you will find such unusual and beautiful products as fine raffia, sturdy rods made of rattan, decorative wooden discs in various sizes and versatile Iceland moss. With it you can quickly create an extraordinary home decoration that fits every season and is easy to make!