Halbach ®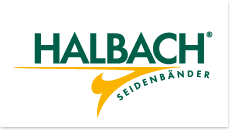 Timeless with a future

Especially for the commemorative floristry you will find in our online shop a versatile selection of wreath ribbons, wreath loops and silk ribbons made by Halbach. Also tulle ribbon, mourning fleece and fringes for attachment to wreath loops and ribbons are part of the repertoire of the silk ribbon manufacturer.

Funeral and urn decorations in the form of funeral wreaths and arrangements express the personal grief and sympathy. Thanks to the variety of materials in our range, which can be individually combined, florists can meet every customer request and every style. The creative design of wreaths or funeral arrangements of fresh flowers or dried flowers is rounded off with wreath ribbons.

Elegant mourning ribbons, wreath ribbons, mourning fleece and fringes by Halbach for commemorative floristry

The silk ribbon collection for the commemorative floristry of Halbach presents itself in many different designs. The wreath ribbons in the assortment are available in one color or in different color combinations, for example also in national colors. Some of the wreath ribbons are finished with French Moiré effect, gold-plated edge or with a special finish. The fringes in black, gold and silver can also be glued to the garlands as a trimming cord. Printed with a farewell greeting, the high-quality silk ribbons from Halbach give a wreath or floral arrangement a very personal touch. In our web offset printing shop, you can individually design mourning ribbons from Halbach and order them directly online.
Halbach ® Product
* All prices exclude VAT and customs duties,
excl. shipping costs
. Crossed-out prices correspond to the previous price.
** Except prepayment. After the invoice amount has been credited to our account, we will process your order immediately.