Wooden tray with figurines Cocks 46cm
£ 15,40
incl. 20 % VAT., excl. shipping costs
Product.Nr. 64583
weight 0.80 KG
delivery time 5-7 days

15 reviews, rated on average 5
13826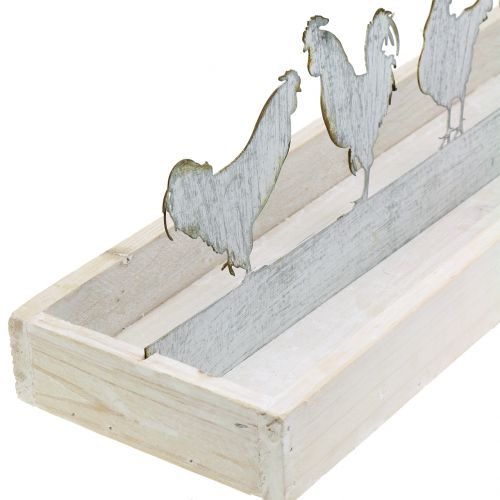 Wooden tray with figurines Cocks 46cm
A lovely spring decoration that combines two materials in style! Thus, the wooden tray is equipped with a metal decoration, which consists of six proud cocks. The whole arrangement was washed in white, so that the decoration tray shines in trendy shabby chic. The strong vintage look is also underlined by the charming rust effects on the tin taps.


For example, place the wooden tray from the exclusive range of the premium brand VIANA in the middle of a blackboard and in a flash create a festive table decoration for Easter. Decorate the decorative tray with natural materials such as moss and real egg shells or create colorful splashes with colorfully painted eggs! Even smaller sweets such as chocolate eggs will make your guests' hearts beat faster!

The white-washed wooden tray with the metal decoration for sticking has an approximate length of 46 centimeters and a width of about 13 centimeters. The height is about 14 centimeters with metal decorations.

Length: approx. 46cm
Width: about 13cm
Height with metal plug: about 14cm
Color: White washed
Material: wood, metal
Quantity: 1 piece
various payment options, purchase on account
97% positive customer reviews
weekly discount promotions in the newsletter
our YouTube channel explains many articles
extensive customer service

DHL World Package
Delivery will be made within 5-7 working days. The delivery period starts after conclusion of the contract and ends after 5-7 working days. If the last day of the period falls on a Saturday, Sunday or a general public holiday recognized at the place of delivery, the next working day shall be substituted for such day.
| | |
| --- | --- |
| Calculation | Total price |
| to 5,00 kg | £ 5,90 * |
| over 5,00 to 15,00 kg | £ 13,50 * |
| over 15,00 to 30,00 kg | £ 26,50 * |
| over 30,00 to 60,00 kg | £ 52,00 * |
| over 60,00 to 120,00 kg | £ 104,00 * |
| over 120,00 kg | Please make a new order |
Our top offers April 2020
* all prices incl. 20 % VAT.,
excl. shipping costs
Crossed out prices correspond to the previous price.

more categories suitable for this article
You May Also Like
* all prices incl. 20 % VAT.,
excl. shipping costs
Crossed out prices correspond to the previous price.