Wedding figure bridal couple 13cm 1 pair
£ 17,35

*
Wedding figure bridal couple 13cm 1 pair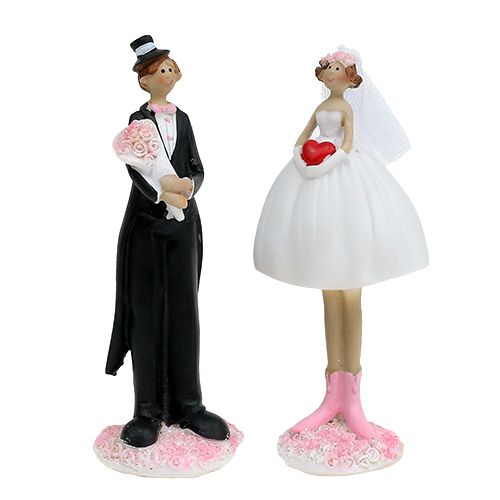 £ 8,67 pro piece
Delivery till 28. June **
---

Product description
If you are still looking for a cute detail for your wedding decor, then this cute bride and groom is a great match as a wedding figure! Divide your guests into the bride's and groom's by placing the appropriate figures on the tables at the wedding reception. But you can also decorate the table and the seats of the wedding couple with the high-quality figures made of polyresin.
Garnish it with an ivy garland, decorative roses and a few deco diamonds, which you can then add as a sprinkler. The bridal couple's figurines are also really nice as cake figures for the wedding cake, which can really shine on the top. And if you're looking for a little gimmick for the wedding gift, you'll be guaranteed to score with this pretty couple!
The bridal couple as a wedding figure is sold as 1 pair and consists of a bride and a groom. She wears a cute white dress with a big hoop skirt, pink boots, white cuffs and a great veil of organza fabric. In her arms she weighs a big red heart, which she will give to her sweetheart. The gentleman wears a black tuxedo with a top hat and a white shirt with a pink bow. In his arms he holds a lush bouquet of roses with pink flowers, which he holds ready for his future. Both stand out of a bed, which is also made of pink rose petals and held in a heart shape.
Size: about 12.5cm and 13cm
Width: about 6cm and 3cm
Footprint: about 4cm x 3.5cm and 4.5cm x 4cm
Color: White, Silver, Red, Brown, Pink, Black
Material: Polyresin, organza fabric
Quantity: 2 pieces (1 pair)
Prod. nr.
: 74655
Weight
: 0,3 kg
Delivery till
: 28. June
**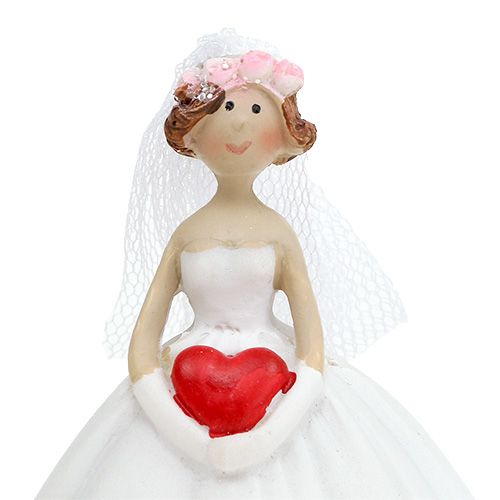 ---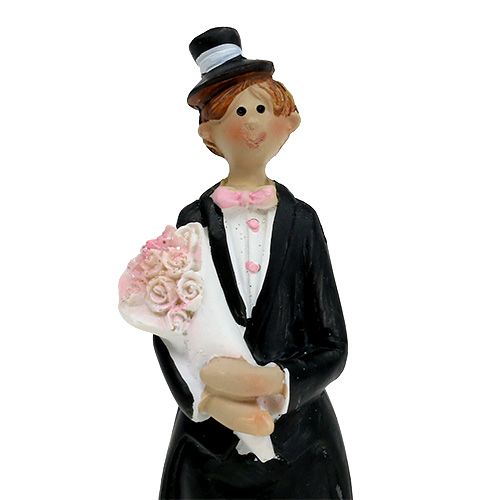 * All prices incl. 20 % VAT,
Excl. shipping costs
Crossed-out prices correspond to the previous price. Plus any applicable customs duties.
** Except prepayment. After the invoice amount has been credited to our account, we will process your order immediately.