Rectangular plant basket, natural-white washed L33cm, set...
£ 21,80

*
Rectangular plant basket, natural-white washed L33cm, set of 3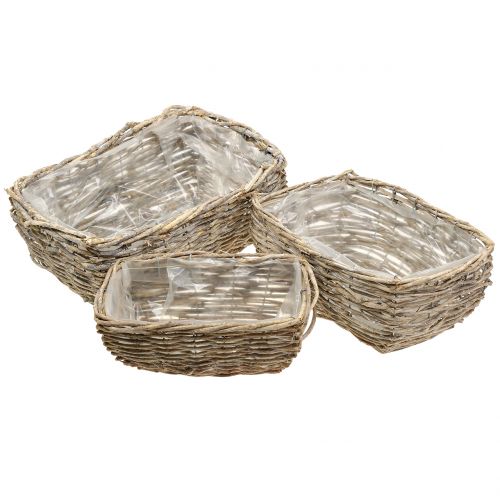 Delivery till 30. July **
---

Product description
A plant basket of ancient tradition: the weaving of willow branches is closely intertwined with our human culture. Traditional craftsmanship goes back as far as 12,000 years and, according to experts, is even older than pottery. So you hold with these high-quality plant baskets from the exclusive product line VIANA a traditional craft piece in the hands, which is ideally suited to accommodate all kinds of plantings, as well as makes excellent as a decorative item. The natural willow branches were braided around a sturdy metal framework and provided with a white wash, which gives the basket a distinctive look in vintage or shabby chic. The inner surface is lined with a transparent plastic film, so that direct planting is possible and no liquids can escape.
In the spring decoration, create a truly wonderful sea of ​​flowers of, for example, primroses, pansies, crocuses and daffodils. After the cold winter, the colorful variety will bring sunshine back into your hearts and decorate your home, your restaurant or your shop window in a lively way.
The planter in white wash comes in a set of 3 pieces. The largest basket has the dimensions of about 33 x 23.5 centimeters, the middle the dimensions of about 28.5 x 19 centimeters and the smallest a size of about 23 x 13.5 centimeters.
Dimensions Large: approx. 33 x 23.5cm
Measures Medium: about 28.5 x 19cm
Dimensions small: approx. 23 x 13.5cm
Color: natural, washed white
Material: wood, metal, plastic
Quantity: 3 pieces, 1 per size
Prod. nr.
: 63949
Weight
: 1 kg
Delivery till
: 30. July
**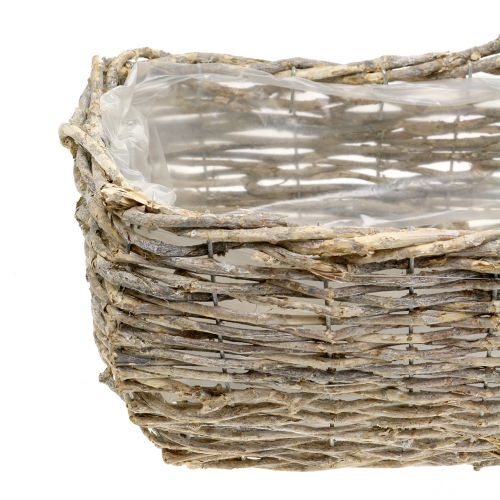 ---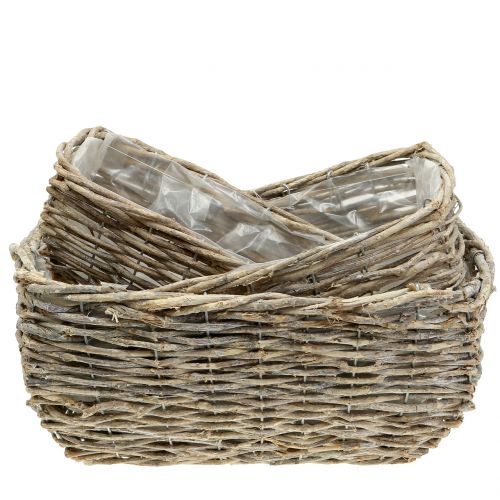 * All prices incl. 20 % VAT,
Excl. shipping costs
Crossed-out prices correspond to the previous price. Plus any applicable customs duties.
** Except prepayment. After the invoice amount has been credited to our account, we will process your order immediately.
Further categories matching your selection