Planter coconut natural Ø37 / 24cm, set of 2
31,70 € *
£ 22,30

*
you save 30% (£ 9,40)
Planter coconut natural Ø37 / 24cm, set of 2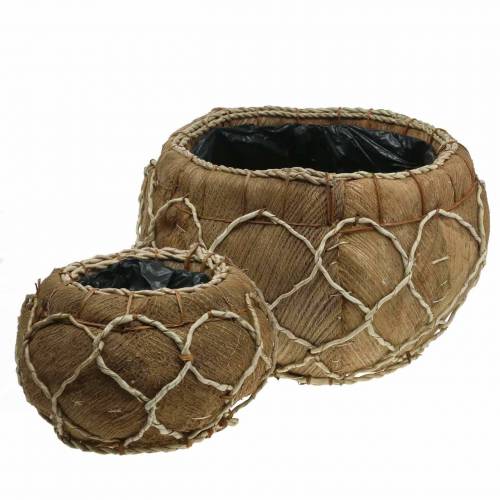 31,70 € *
£ 22,30

*
you save 30% (£ 9,40)
Delivery till 30. July **
---

Product description
Special plants deserve a special planter - made from coconut. Exotics like orchids come into their own in a bowl with braided coconut fibers! Bring flair to a winter garden full of tropical plants! And a living room with furniture made of exotic wood looks even more noble with the planters that underline the natural colors tone on tone.

The planter gains its charm through the combination of natural materials in several colors. In addition to the fibers of the coconut, willow and hemp are also used here. All materials are braided or carefully sewn. So the planter is not only stable: the surface also gets an exciting, plastic pattern, but still looks natural. The inside of the coconut fiber plant pots is lined with black plastic film. The coconut jar can serve as a flower pot or can be planted directly with a layer of expanded clay or gravel.

You get the planter made of coconut fiber in a set of two. The smaller coconut pot for planting has an approximate outer diameter of 25 centimeters and an inner diameter of approximately 14 centimeters at a height of approximately 17 centimeters. The larger planter has a diameter of approximately 37 centimeters outside and 25 centimeters inside. Here the height is about 23 centimeters.

Outside diameter: approx. 24 cm / 37 cm

Diameter inside: approx. 14 cm / 25 cm

Height: approx.17cm / 23cm

Color: natural colors
Material: wood, coconut fiber, cord, plastic
Quantity: 2 pieces in a set

Prod. nr.
: 38719-017
Weight
: 1,7 kg
Delivery till
: 30. July
**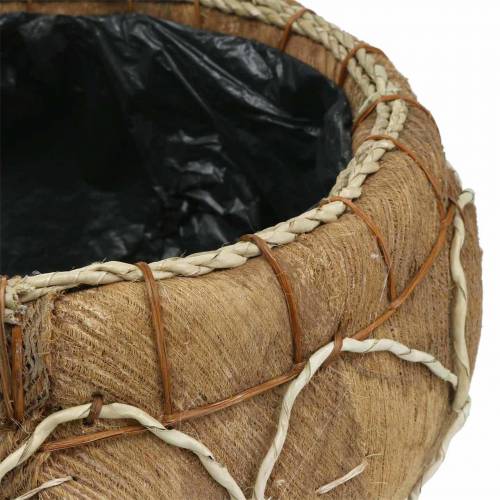 ---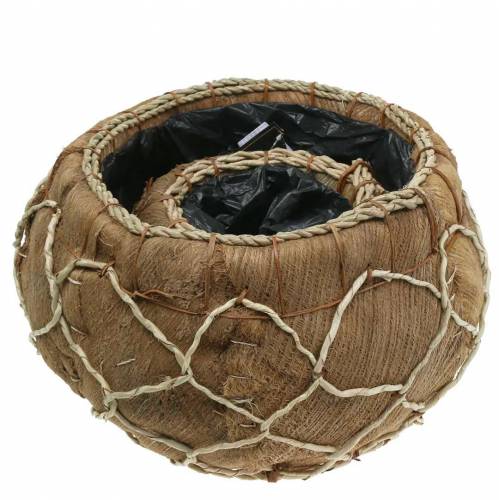 * All prices incl. 20 % VAT,
Excl. shipping costs
Crossed-out prices correspond to the previous price. Plus any applicable customs duties.
** Except prepayment. After the invoice amount has been credited to our account, we will process your order immediately.
Further categories matching your selection