Natural feathers 18 - 24cm 10g
£ 6,30
incl. 20 % VAT., excl. shipping costs
Product.Nr. 67866
weight 0.36 KG
delivery time 5-7 days

14 reviews, rated on average 5
16110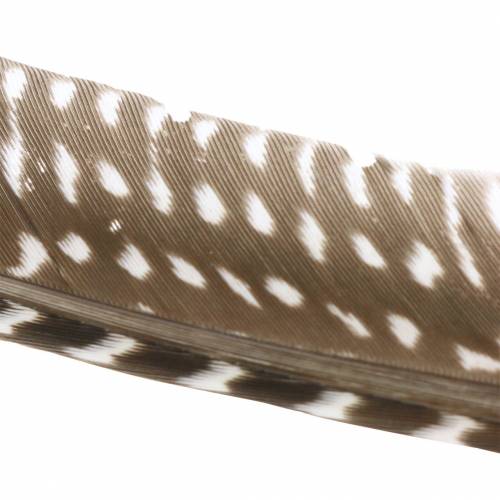 Natural feathers 18 - 24cm 10g
Decorate yourself with strange feathers! These real bird feathers are the best choice for creating imaginative costumes and original decorations.
The natural feathers of the premium brand VIANA are hand-picked, impress with their spotted pattern in the natural colors brown and white and have a long keel. So you can easily incorporate the decorative feathers into your creations. Create the hair accessories for a fancy costume by sewing the bird feathers on a ribbon or simply attaching them with staples or glue. The feathers also look great on fashionable accessories. This is how fun with feathers is fun! With their muted colors, the real feathers are just as suitable for designing an autumn decoration with decorative animals, artificial mushrooms, moss and a lantern.

The long natural feathers are supplied in a plastic box with a weight of 10 grams. The decorative feathers can be between 18 and 24 centimeters long.

Please note: it is a natural product ! This means that the product is subject to natural fluctuations and can therefore differ in shape, color, size, width, length and diameter from the specified dimensions !

Lengths: approx. 18 cm - 24 cm

Color: natural colors

Material: real bird feathers

Weight: approx.10g
automatically translated to google
various payment options, purchase on account
97% positive customer reviews
weekly discount promotions in the newsletter
our YouTube channel explains many articles
extensive customer service

DHL World Package
Delivery will be made within 5-7 working days. The delivery period starts after conclusion of the contract and ends after 5-7 working days. If the last day of the period falls on a Saturday, Sunday or a general public holiday recognized at the place of delivery, the next working day shall be substituted for such day.
| | |
| --- | --- |
| Calculation | Total price |
| to 5,00 kg | £ 5,90 * |
| over 5,00 to 15,00 kg | £ 13,50 * |
| over 15,00 to 30,00 kg | £ 26,50 * |
| over 30,00 to 60,00 kg | £ 52,00 * |
| over 60,00 to 120,00 kg | £ 104,00 * |
| over 120,00 kg | Please make a new order |
Our top offers April 2020
* all prices incl. 20 % VAT.,
excl. shipping costs
Crossed out prices correspond to the previous price.

more categories suitable for this article
You May Also Like
* all prices incl. 20 % VAT.,
excl. shipping costs
Crossed out prices correspond to the previous price.