Juniper branch with cones green 39cm 3pcs
£ 8,25 £ 6,85 you save 17% (£ 1,40)
£ 2,28 per piece
incl. 20 % VAT., excl. shipping costs
Crossed out prices correspond to the previous price.
Product.Nr. 87591
weight 0.30 KG
15 reviews, rated on average 5
12491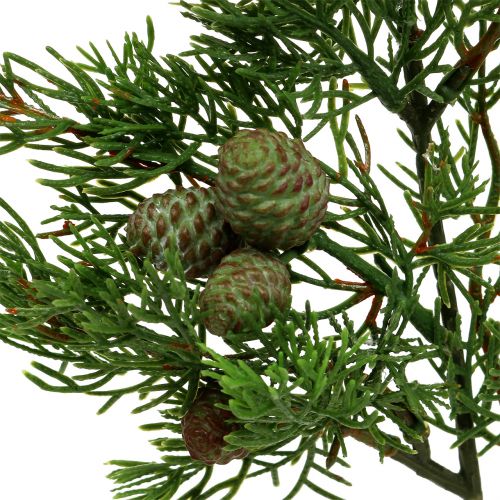 Juniper branch with cones green 39cm 3pcs
The beautiful juniper branch with cones in green will lend your floral arrangements a special freshness and liveliness for years to come. Like its natural role model, the artificial deco branch always remains green, is still robust and can be rearranged at any time. The high quality manufactured juniper made of plastic resembles a real branch in every detail. Its fine leaves are typically short and snug. Thus, the artificial branch appears as dense and bushy, as that of a true Juniperus, the botanical name of the Juniper. The male cones peek boldly out of the fine branch and are not yet completely woody. On top of that, the twigs are gently moistened with orange color reminiscent of leaked tree resin.

All this enhances the impression of liveliness and freshness - qualities that have been assigned to the juniper for ages. So the artificial plant is predestined for floral creations, which should bring reliable freshness into your interiors. An altweibersommerlicher arrangement, for example, gets through the small leaves and cones of Deko juniper a wonderfully vital note.

You get the juniper branch made entirely of plastic with cones in green in a practical set of 3. Each of the identical branches is about 39 centimeters long and carries 8 male cones. The long stem allows you to easily put the artificial plant in Styrofoam or stick mass.

Length: approx. 39cm
Color: green, nature
Material: Plastic
Quantity: 3 pieces
£ 8,25
£ 6,85 *
you save 17% (£ 1,40)
various payment options, purchase on account
97% positive customer reviews
weekly discount promotions in the newsletter
our YouTube channel explains many articles
extensive customer service

DHL World Package
Delivery will be made within 5-7 working days. The delivery period starts after conclusion of the contract and ends after 5-7 working days. If the last day of the period falls on a Saturday, Sunday or a general public holiday recognized at the place of delivery, the next working day shall be substituted for such day.
| | |
| --- | --- |
| Calculation | Total price |
| to 5,00 kg | £ 5,90 * |
| over 5,00 to 15,00 kg | £ 13,50 * |
| over 15,00 to 30,00 kg | £ 26,50 * |
| over 30,00 to 60,00 kg | £ 52,00 * |
| over 60,00 to 120,00 kg | £ 104,00 * |
| over 120,00 kg | Please make a new order |
Our top offers December 2019
* all prices incl. 20 % VAT.,
excl. shipping costs
Crossed out prices correspond to the previous price.

more categories suitable for this article
You May Also Like
* all prices incl. 20 % VAT.,
excl. shipping costs
Crossed out prices correspond to the previous price.