Fruit assortment 500g
£ 10,30 £ 9,46 you save 8% (£ 0,84)
£ 18,91 per kilogram
incl. 20 % VAT., excl. shipping costs
Crossed out prices correspond to the previous price.
Product.Nr. 59B
weight 0.50 KG
delivery time 5-7 days
16 reviews, rated on average 5
1828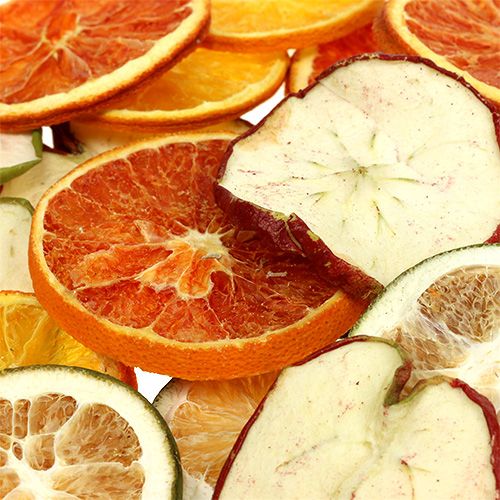 Fruit assortment 500g
When nuts, fruits and vegetables are once again booming in autumn, you can prepare for the season with this practical fruit assortment! The fruit mix consists of the dried, preserved and specially treated slices of oranges, red and green apples, blood oranges and limes. For example, you can arrange the real fruit slices in a bowl and combine them with real fruits, cereals and pumpkins, and put them on a sideboard in the hallway as a complete package.

The beauty of these deco fruits is that, although they are real, they do not spoil and always shine in their strong colors while still remaining quite soft. So you can combine the fruit slices with a fine thread and hang up as a chic window garland. But even in a Christmas decoration or a flower bouquet the beautiful Fruchtscheiben score!

The colorful fruit assortment is contained in a bag totaling 500 grams and consists of pure, treated natural products. The fruit slices vary in size and have diameters of about 3.5 to 8 centimeters.

Please note: Our dried fruits are not suitable for consumption! Use only for decoration in bouquets, flower arrangements, for funeral floristry, Christmas floristry and as a table decoration. Keep away from children!
It is a natural product! This means that the product is subject to natural fluctuations and thus may differ in shape, color, size, width, length and diameter of the specified dimensions!

Size: approx. Ø3,5cm - 8cm
Color: orange, green, red, natural colors
Material: natural, dried
Content: 500g
£ 10,30
£ 9,46 *
you save 8% (£ 0,84)
various payment options, purchase on account
97% positive customer reviews
weekly discount promotions in the newsletter
our YouTube channel explains many articles
extensive customer service

DHL World Package
Delivery will be made within 5-7 working days. The delivery period starts after conclusion of the contract and ends after 5-7 working days. If the last day of the period falls on a Saturday, Sunday or a general public holiday recognized at the place of delivery, the next working day shall be substituted for such day.
| | |
| --- | --- |
| Calculation | Total price |
| to 5,00 kg | £ 5,90 * |
| over 5,00 to 15,00 kg | £ 13,50 * |
| over 15,00 to 30,00 kg | £ 26,50 * |
| over 30,00 to 60,00 kg | £ 52,00 * |
| over 60,00 to 120,00 kg | £ 104,00 * |
| over 120,00 kg | Please make a new order |
Our top offers November 2019
* all prices incl. 20 % VAT.,
excl. shipping costs
Crossed out prices correspond to the previous price.
You May Also Like
* all prices incl. 20 % VAT.,
excl. shipping costs
Crossed out prices correspond to the previous price.