Flower basket with handle white-old rose 35cm × 17cm H25cm
£ 10,20

*
Flower basket with handle white-old rose 35cm × 17cm H25cm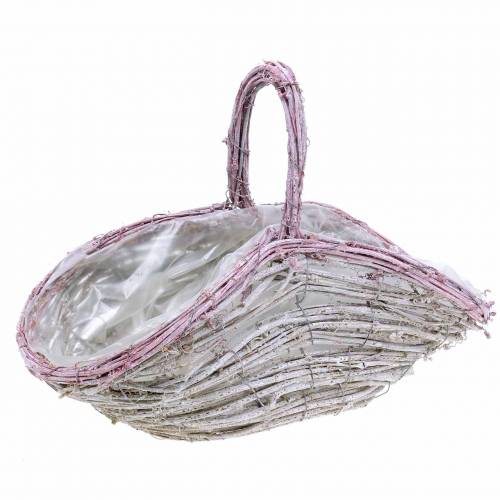 Delivery till 30. July **
---

Product description
Ring the wedding bells? The romantic flower basket made of playful vine completes your wedding celebration. Because what is a wedding without scatter flowers and floral arrangements?
The flower children can carry the basket on the small handle when moving out of the registry office or church and sprinkle flowers from it. If necessary, the planting film glued in can also be easily removed. With a bow on the handle, the stray children will look very adorable.
Soak a cut piece of floral foam and insert pink roses, cosmea and gypsophila, for example. The curved shape of the handle basket allows you to work nicely on both sides. With a pair of doves and a bow made of white lace ribbon or a ribbon decorated with pearls, you can create a playful romantic table decoration for the wedding party.
Since the decorative basket is lined with foil, the basket can also be easily planted and watered. Plant a small herb bed for your kitchen window sill or as a gift for the next barbecue party. Planted with small roses and decorated with a heart pin, the handle basket is also a nice souvenir for Mother's Day.
The basket with handle in white-old pink has the dimensions approximately 35 × 17 × 14 centimeters and is a total of 25 centimeters high with its handle. The flower basket is colored in rustic white, while the handle and basket rim are dyed pink. The twisted vine branches and pieces of bark are connected by metal wire and reinforced with metal rods. So that no liquid escapes, the planting area is covered with a plastic film that is attached to the inside of the basket with adhesive. The irregularly protruding vine winches give the plant basket a special charm.

Length: about 35cm
Width: about 17cm
Height: about 14cm
Height with handle: approx.25cm
Color: white, dusky pink
Material: wood, metal, foil
Quantity: 1 pc


Prod. nr.
: 69414
Weight
: 0,5 kg
Delivery till
: 30. July
**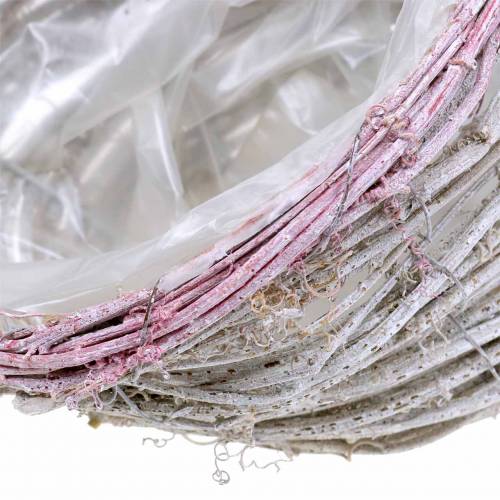 ---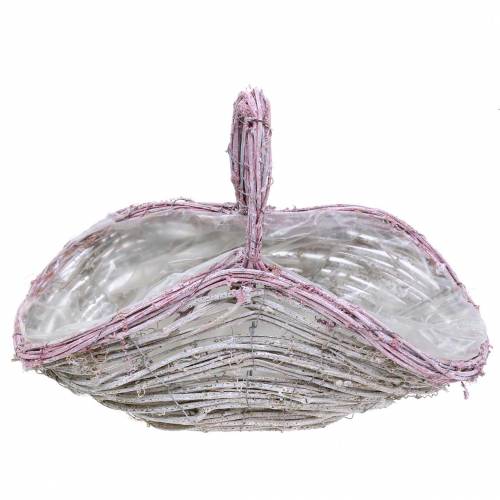 * All prices incl. 20 % VAT,
Excl. shipping costs
Crossed-out prices correspond to the previous price. Plus any applicable customs duties.
** Except prepayment. After the invoice amount has been credited to our account, we will process your order immediately.
Further categories matching your selection