Decorative wreath eucalyptus and artificial cones Ø45cm...
£ 49,35

*
Decorative wreath eucalyptus and artificial cones Ø45cm green, white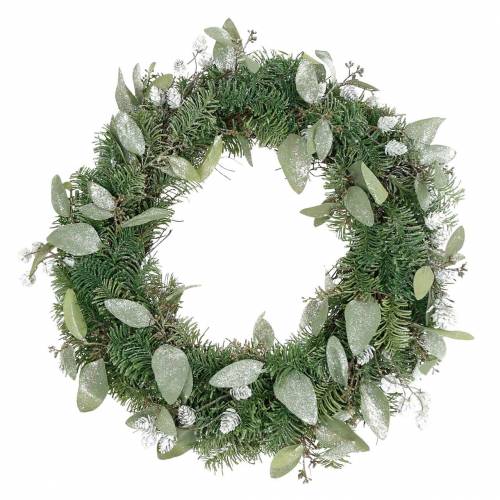 Delivery till 15. December **

Shipping within 24 hours
Only 19 article left in stock.
---

Product description
Small, white cones, eucalyptus leaves and glittering artificial snow decorate this particularly large wreath for Christmas!

As a special highlight, the white washed cones stand out, which are impressively realistically modeled on natural alder cones. The eucalyptus leaves made of artificial silk and the pine needles made of plastic are in no way inferior to these decorative elements. The large Advent wreath sits on a blank made of real brown vine branches, which underlines the natural appearance. The decorative wreath is also sprinkled with glittering snow crystals made of plastic for a wintry shine!

As a shop window decoration, this artificial wreath cannot be distinguished from real fir green with the naked eye. It doesn't need needles and the vine twigs are also very durable - so you and your customers can enjoy the opulent Christmas decorations with fir green and alder cones for a long time. Perhaps you can equip the decorative wreath with four LED candles and create an Advent wreath that does not pose a fire hazard? This creates an Advent atmosphere at the reception, in the lobby, in the retirement home or in your home!

The decorative wreath in green and white has an outer diameter of around 45 centimeters, with the approximate inner diameter being an impressive 25 centimeters. The height of the fir wreath with eucalyptus and leaves is about 10 centimeters. The artificial door and table decorations are made of plastic in the upper part and natural vine branches in the lower part.

Outside diameter : approx. Ø45cm
Inner diameter : approx. Ø25cm
Height : about 10cm
Color : green, white, brown, nature
Material : plastic, wood, metal
Quantity : 1 piece

Please note: accessories as well as decorative items shown on product images are not part of the product unless they are explicitly included.


Prod. nr.
: 68552
Weight
: 0,95 kg
Delivery till
: 15. December
**
more item pictures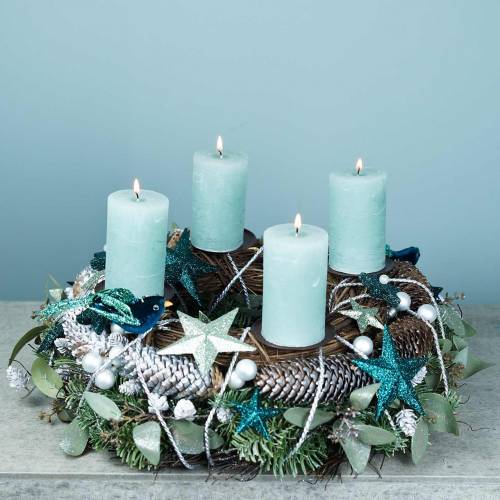 ---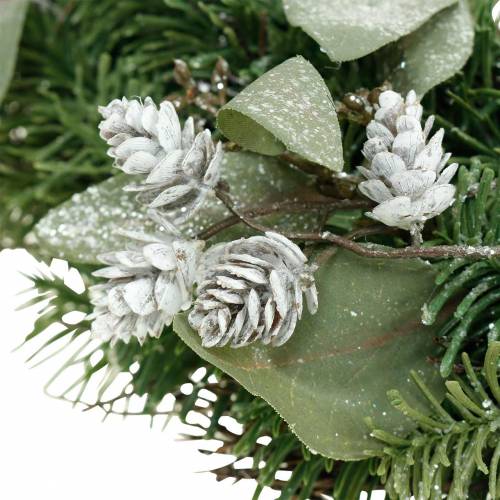 ---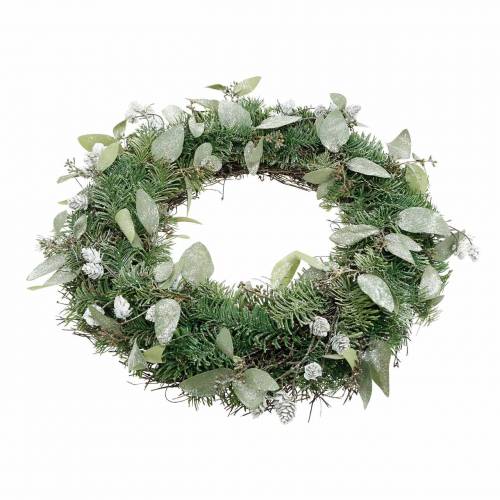 * All prices
excl. shipping costs
. Crossed-out prices correspond to the previous price. All prices exclude VAT and customs duties.
** Except prepayment. After the invoice amount has been credited to our account, we will process your order immediately.
Further categories matching your selection