Decorative cup antique look metal moss green Ø19cm H35,5cm
£ 24,15

*
Decorative cup antique look metal moss green Ø19cm H35,5cm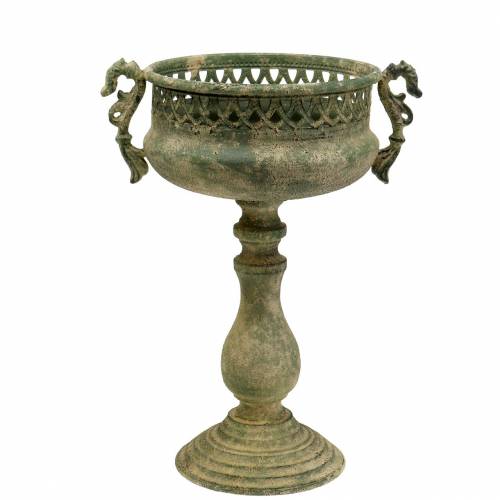 Delivery till 2. October **

Shipping within 24 hours
Only 10 left in stock.
---

Product description
This decorative goblet looks antique and as if it was recovered from the desert sand - the result of an elaborate treatment. The moss green base color is reminiscent of oxidized copper. In addition, the metal vessel was treated in several colors. The elegant base and small handles, which are based on old representations of seahorses or sea dragons, complete the metal decoration in an antique look.
The chalice is detailed enough to be placed as a single piece on a chest of drawers, on the terrace or in a niche in the natural stone wall in the garden. Since it is even treated with decorative sand on the inside, it also gives a stunning vintage look when lying on a large decorative plate with fine sand, other metal decorations or souvenirs such as coins, sea snails and shells. Due to its elaborate design, it is just as perfect for a shop window.

The metal cup has a total height of approximately 35.5 centimeters. The bowl itself is approximately 10.5 centimeters deep and its diameter is approximately 18.5 centimeters.
Overall height : approx.35.5cm
Deep bowl: approx.10.5cm

Diameter
: approx. Ø18.5 cm (27 cm with handles)
Color
: moss green, beige, gray, black
Material
: metal
Quantity : 1 pc
Please note :

This product is made from galvanized, post-treated sheet steel. We can therefore not guarantee that the container is 100% rustproof and 100% waterproof.
Prod. nr.
: 68263
Weight
: 1,1 kg
Delivery till
: 2. October
**
more item pictures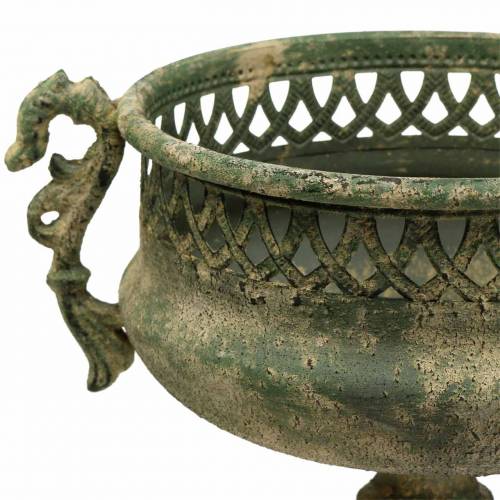 ---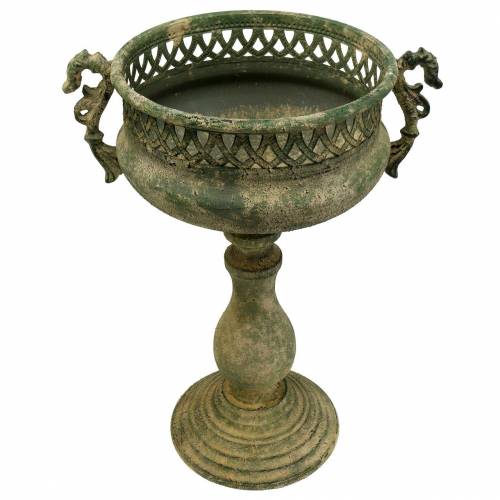 * All prices incl. 20 % VAT,
Excl. shipping costs
Crossed-out prices correspond to the previous price. Plus any applicable customs duties.
** Except prepayment. After the invoice amount has been credited to our account, we will process your order immediately.
Further categories matching your selection