Deco figure Acorn Brown 11cm x 8cm x 7cm 3pcs
£ 12,45
£ 4,15 per piece
incl. 20 % VAT., excl. shipping costs
Product.Nr. 66445
weight 1.00 KG
delivery time 5-7 days

18 reviews, rated on average 4.9
15159
Deco figure Acorn Brown 11cm x 8cm x 7cm 3pcs
Whether autumn decoration or Christmas time: This Deko acorn comes in a lovely three-way team! Made of sturdy concrete, the glans shines in a particularly natural reproduction. The rustic color scheme in brown underlines the natural look skillfully.
Where do you want to place the trio with you? How about, for example, an autumn table decoration? For that you can distribute the concrete figures wonderfully on the table. Maybe you still want to combine self-collected chestnuts, some colorful autumn leaves to sprinkle and branches from the forest? Also, the glans could be a great centerpiece in a decorative bowl. Decorate the bowl with moss and then embed the decoichoke on top. What a cuddly nest! And in the Christmas decorations you can arrange the acorn trio wonderfully together with golden mirror berries in the window decoration.
The three acorns of the premium brand VIANA have approximately the following dimensions: 11 times 8 times 7 centimeters. At the bottom there are three furniture protectors.
Dimensions: approx. 11cm x 8cm x 7cm
Color: gray, brown
Material: concrete, plastic
Quantity: 3 pieces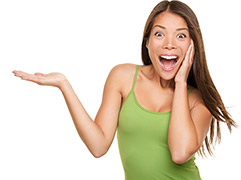 various payment options

97% positive customer reviews
weekly discount promotions in the newsletter
our YouTube channel explains many articles
extensive customer service

DHL World Package
Delivery will be made within 5-7 working days. The delivery period starts after conclusion of the contract and ends after 5-7 working days. If the last day of the period falls on a Saturday, Sunday or a general public holiday recognized at the place of delivery, the next working day shall be substituted for such day.
| | |
| --- | --- |
| Calculation | Total price |
| to 5,00 kg | £ 5,90 * |
| over 5,00 to 15,00 kg | £ 13,50 * |
| over 15,00 to 30,00 kg | £ 26,50 * |
| over 30,00 to 60,00 kg | £ 52,00 * |
| over 60,00 to 120,00 kg | £ 104,00 * |
| over 120,00 kg | Please make a new order |
Our top offers May 2020
* all prices incl. 20 % VAT.,
excl. shipping costs
Crossed out prices correspond to the previous price.

more categories suitable for this article
You May Also Like
* all prices incl. 20 % VAT.,
excl. shipping costs
Crossed out prices correspond to the previous price.