Basket round set of 3 Ø14cm - 24cm pink, nature
13,65 € *
£ 7,70

*
you save 44% (£ 5,95)
Basket round set of 3 Ø14cm - 24cm pink, nature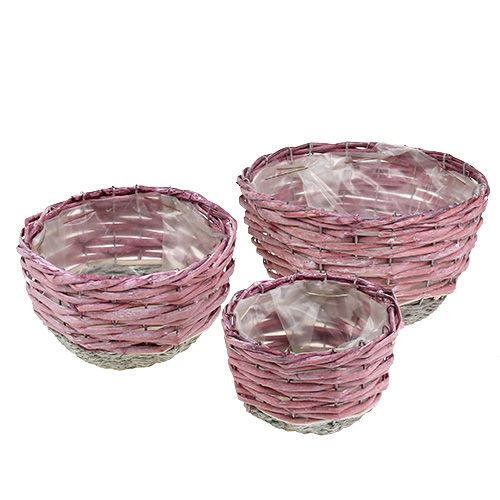 13,65 € *
£ 7,70

*
you save 44% (£ 5,95)
Delivery till 30. July **
---

Product description
A creative planting with different flowers looks even prettier in such a round basket in pink and natural colors. This is shaped like a shell and fits wonderfully into the summer with the color combination of old rose, gray and nature. The set contains a small, medium and large plant basket, so that you can implement very different design ideas and then either set the containers individually or combine them with each other. The cups harmonize fantastically with delicate roses, primroses and lavender.
As the baskets are made of a metal-reinforced wickerwork, they are particularly sturdy and lined with watertight plastic foil, so there is no obstacle to direct planting. In addition to flowering plants for spring or summer, smaller houseplants such as succulents, cacti and culinary herbs are also available. Or you can transform one of the planters into beautiful table ornaments by laying it out with plug-in paste and attaching blossoms, grasses and decorative plugs at will. By the way, the baskets are just as good as gift boxes and Easter baskets.
The set of 3 consists of round, colored cups made of wood chips, metal and foil. The overall diameter amounts to about 14, 19 and 24 centimeters, while the opening diameter in each case about 12, 16.5 and 22 centimeters and the heights are about 9, 12 and 15 centimeters respectively. The small basket has a bottom diameter of about 8 centimeters, the middle of 11 and the large of 13 centimeters.
Overall diameter: approx. Ø14cm / Ø19cm / Ø24cm
Opening diameter: approx. Ø12cn / Ø16,5cm / Ø22cm
Bottom diameter: approx. Ø8cm / Ø11cm / Ø13cm
Height: about 9cm / 12cm / 15cm
Color: Pink, Nature, Gray, Colorless
Material: wood, plastic, metal
Quantity: 3 pieces, 1 per size
Prod. nr.
: 84185
Weight
: 0,5 kg
Delivery till
: 30. July
**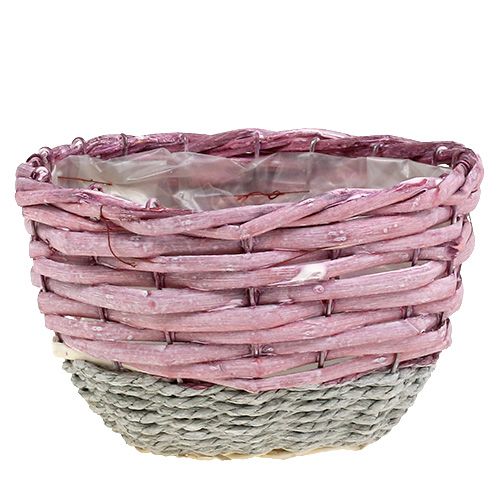 ---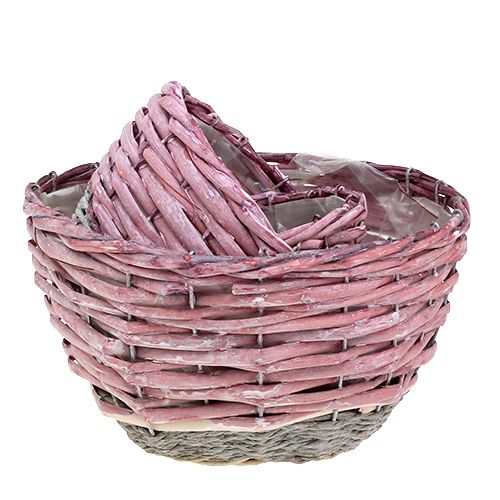 * All prices incl. 20 % VAT,
Excl. shipping costs
Crossed-out prices correspond to the previous price. Plus any applicable customs duties.
** Except prepayment. After the invoice amount has been credited to our account, we will process your order immediately.
Further categories matching your selection