Basket bowl with wooden stand gray, white washed Ø33cm
£ 13,20

*
Basket bowl with wooden stand gray, white washed Ø33cm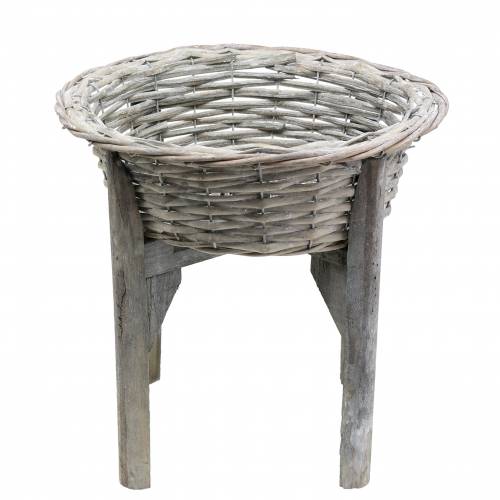 Delivery till 30. July **
---

Product description
This basket bowl with wooden stand in gray, washed in white, offers countless possibilities for indoor and outdoor decoration. Wicker like this one is the one who understands us wherever we can find a homely feeling. No wonder, this planter is made of high quality and carefully processed natural materials. While the stand is made of sturdy wood, the basket was made of rustic willow branches, which are stably braided around a wire fence. The whole deco pot emits a natural impermanence, which makes it the ideal element of a country house decoration in your home or garden. Imagine how beautiful this retro bast basket with stilts looks like when standing in your hall or on the outside staircase in front of your home and equipped with seasonal plants!
Wicker and wooden frames are kept in the style of the popular Shabby Chic, making them ideal for planting with rustic greenery and regional flowers. Do not forget to knock out the basket vessel with vegetable foil beforehand. In autumn, the wicker basket underscores the strong colors of fat hen and asters. Plantings of daffodils and lush green grasses inspire in the spring and get the finishing touches when presented in this raised wicker basket. Of course you can also use the wicker basket for other purposes. How about storing nuts in the basket, which then turn out to be a great Christmas decoration in winter?
The gray, washed in the color white basket bowl with wooden stand has a total height of about 33 centimeters. The outer diameter of the planter is about 33 centimeters, the inner diameter about 22 centimeters. Its height is about 10 centimeters, its depth at about 9.5 centimeters. The collapsible stand has a height of about 30 centimeters and a width of about 28 centimeters. Both elements are made of natural materials; while the stand is made entirely of wood, the Bast basket is additionally reinforced with a wire frame.
Total height:
approx. 33cm
Diameter planter (outside):
approx. Ø33cm
Diameter planter (inside):
approx. Ø22cm
Height of planter:
about 10cm
Deep planter:
ca. 9,5cm
Height of wooden stand:
approx. 30cm
Wide wooden stand:
approx. 28cm
Color:
gray, white, nature
Material:
wood, raffia, metal
Quantity: 1 piece
Note: Accessories as well as decorative items shown on product images are not part of the product unless they are explicitly included.

Prod. nr.
: 63755
Weight
: 0,8 kg
Delivery till
: 30. July
**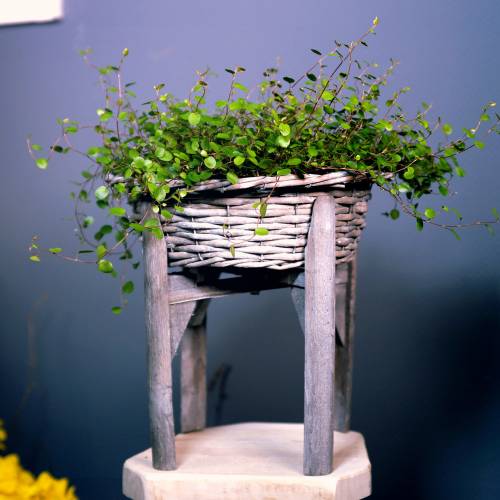 ---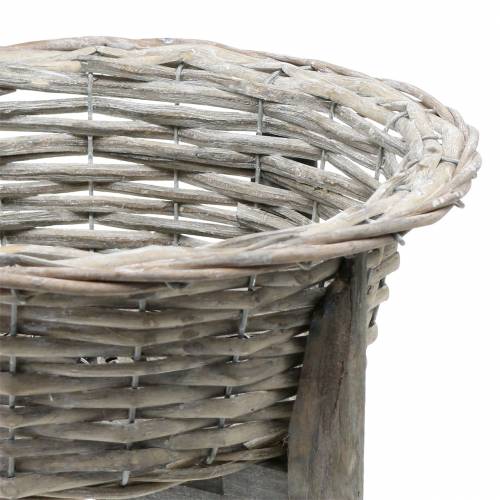 ---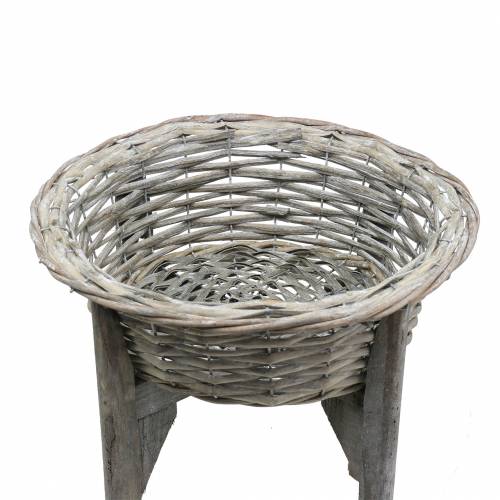 * All prices incl. 20 % VAT,
Excl. shipping costs
Crossed-out prices correspond to the previous price. Plus any applicable customs duties.
** Except prepayment. After the invoice amount has been credited to our account, we will process your order immediately.
Further categories matching your selection