Artificial juniper wreath, juniper wreath, cones Ø25cm
£ 13,50

*
Artificial juniper wreath, juniper wreath, cones Ø25cm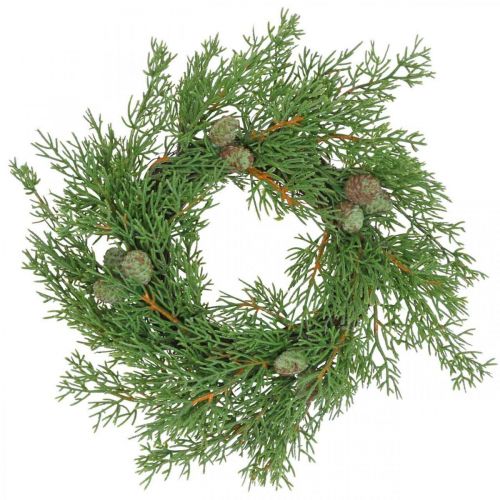 Delivery till 15. December **
---

Product description
The artificial juniper wreath provides a great template for individual winter decorations as a decorative wreath! The decorative juniper branches sit on a real small vine wreath. A particularly beautiful detail on the lifelike juniper wreath are the small, brown and green colored cones that are so characteristic of the juniper tree. This gives the artificial green plant an additional realistic touch.

As a table decoration, place the wreath around a slim candle glass, a flower vase or a golden tea light. The table wreath can then be decorated with mini Christmas balls in your favorite color or decorated with rustic or golden sprinkles. Of course, you can also make a small door wreath or wall wreath out of the juniper decoration with a ribbon. Or decorate a flower pot with a small poinsettia or an amaryllis with the green juniper wreath with cones.

Note:
Accessories and decorative items shown on product images are
not included
in the delivery.
Overall diameter:
approx. Ø25cm
Inner diameter:
approx. Ø6cm
Diameter of the vine wreath:
approx. Ø14.5cm
Height:
approx. 6 centimeters
Color:
green, brown
Material:
plastic, wood, wire
Product line:
Viana
Quantity:
1 piece
manufacturers
: Viana ®
Prod. nr.
: 00701
Weight
: 0,42 kg
Delivery till
: 15. December
**
more item pictures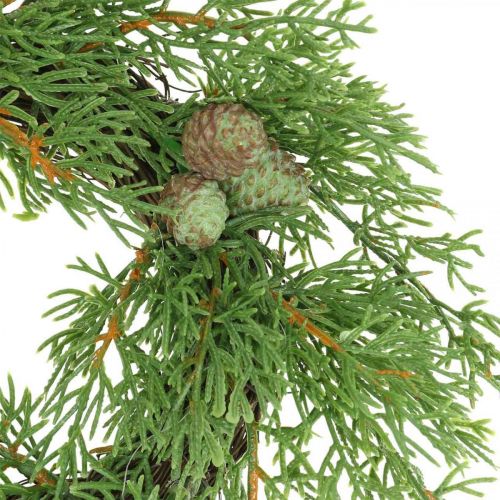 ---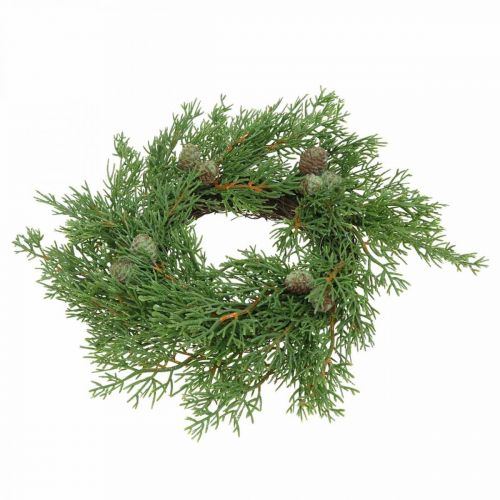 * All prices
excl. shipping costs
. Crossed-out prices correspond to the previous price. All prices exclude VAT and customs duties.
** Except prepayment. After the invoice amount has been credited to our account, we will process your order immediately.
Further categories matching your selection