Artificial fir branch with Christmas roses and cones L36cm
£ 9,00

*
Artificial fir branch with Christmas roses and cones L36cm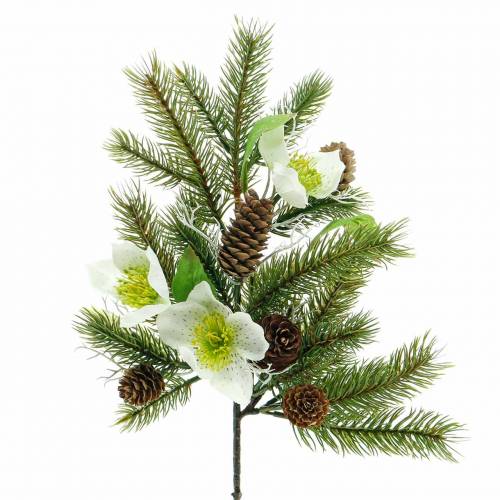 Delivery till 15. December **
---

Product description
A pine branch decorated with Christmas roses and cones is a perfect decoration for the Christmas season!
Place a fir branch with Christmas rose blossoms in a small vase or work it into a winter arrangement or an Advent wreath. - The flexible, bendable fir branch is also very beautiful as a central decorative object on a metal decorative ring!
The artificial pine branch is designed very naturally. A sturdy brown branch with a metal core branches out into numerous twigs on four levels. The real-looking fir branch is decorated with five brown pine cones and three flowers as well as leaves of the white Christmas rose and three artificial whitened decorative branches
With its deceptively real color scheme, the Christmas tree topper with Christmas roses and cones impresses as an appealing table decoration or as a decorative element in arrangements, bouquets or wreaths at home, as well as in restaurants and hotels, in the shop window or as a dignified winter grave design!
You will receive the high-quality artificial fir branch with Christmas roses with a total length of 36 centimeters. The three white Christmas rose blossoms are about 5.5 centimeters in diameter. The four cones are about 2.5 - 3 × 5 - 6.5 centimeters in size.
Total length:
approx. 26 cm
Width:
approx 23cm
Flower diameter:
approx. 5–7cm
Size cones:
approx. 2.5–3 × 5–6.5 cm
Color:
green, white, yellow, brown
Material:
plastic, metal, fabric
Quantity:
1 piece
Prod. nr.
: 75098
Weight
: 0,37 kg
Delivery till
: 15. December
**
more item pictures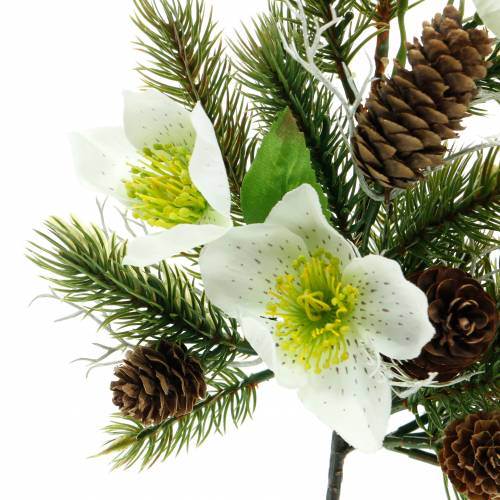 ---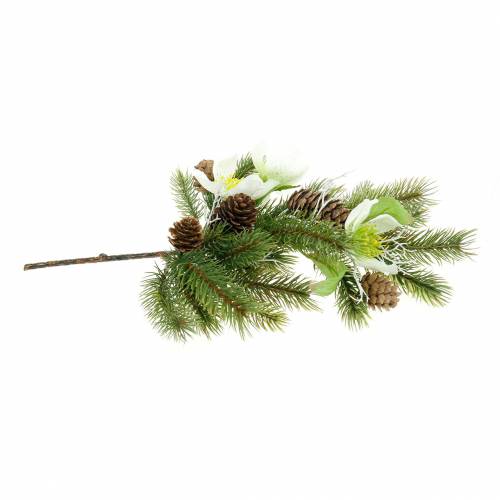 * All prices
excl. shipping costs
. Crossed-out prices correspond to the previous price. All prices exclude VAT and customs duties.
** Except prepayment. After the invoice amount has been credited to our account, we will process your order immediately.
Further categories matching your selection