Artificial Christmas rose bouquet with fir tree and cones...
£ 15,25

*
Artificial Christmas rose bouquet with fir tree and cones H26cm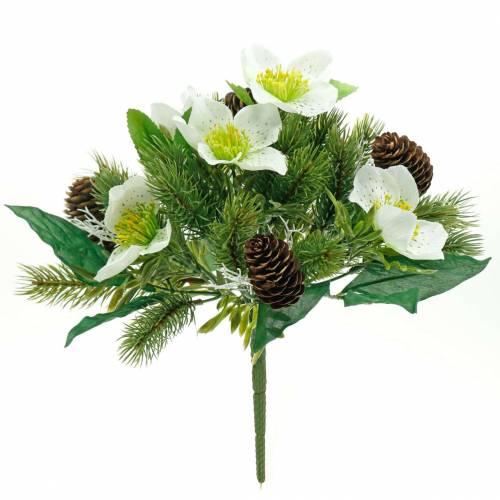 Delivery till 15. December **

Shipping within 24 hours
Only 16 article left in stock.
---

Product description
Christmas roses are among the most beautiful winter flowers. The plant, also known as the snow rose, inspires around Christmas time with its attractive, elegant flowers.
This high quality winter bouquet made of silk flowers, artificial fir and pine cones looks very attractive. The white Christmas roses are made of high-quality textile fiber, lovingly and faithfully. The stem and the fir branches are made of plastic. - Brown cones, green foliage and artificial whitened decorative branches complete the decorative bouquet of Christmas roses.
A bouquet with Christmas roses is suitable as a festive table decoration for Advent and Christmas in your home, for restaurants and hotel rooms. You can also use the beautiful artificial bouquet with Christmas roses and a fir tree as a high-quality greeting for a grave site in winter.
The branches of the realistically designed artificial bouquet are all provided on the inside with flexible metal wire, which means that they can be bent into shape if desired. At the bottom, the stalks end together in a sturdy pick about 9.5 centimeters long. The pick can practically be inserted into various surfaces such as earth, sand or plugging material or placed in a suitable vase.
The total height of the bouquet is about 26 centimeters. The six flowers have an approximate diameter of 5 - 7 centimeters. The four cones are approximately 3 - 3.5 × 5 - 6.5 centimeters in size.
Total height:
approx. 26 cm
Diameter:
approx. Ø28cm
Flower diameter:
approx. 5–7cm
Size cones:
approx. 3–3.5 × 5–6.5 cm
Color:
green, white, yellow, brown
Material:
plastic, metal, fabric
Quantity:
1 piece
Prod. nr.
: 75100
Weight
: 0,43 kg
Delivery till
: 15. December
**
more item pictures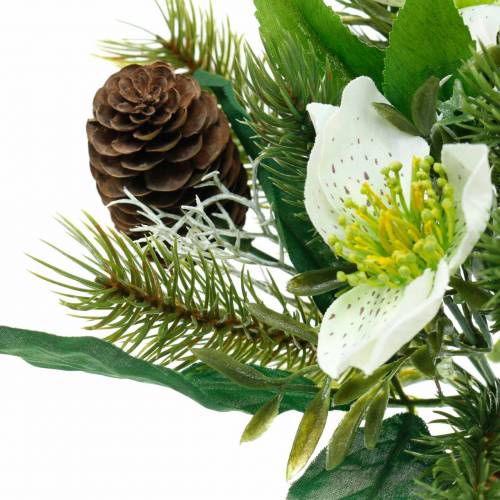 ---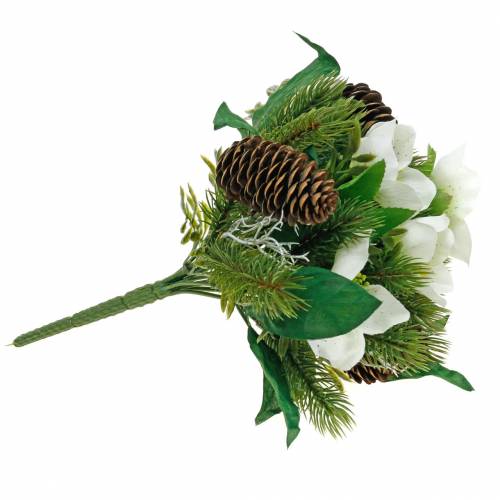 * All prices
excl. shipping costs
. Crossed-out prices correspond to the previous price. All prices exclude VAT and customs duties.
** Except prepayment. After the invoice amount has been credited to our account, we will process your order immediately.
Further categories matching your selection