Zinc Tray Spring Meadow with Easter Bunny 35cmx16cm H24cm
£ 12,90
incl. 20 % VAT., excl. shipping costs
Product.Nr. 64581
weight 0.50 KG
delivery time 5-7 days
13 reviews, rated on average 5
13814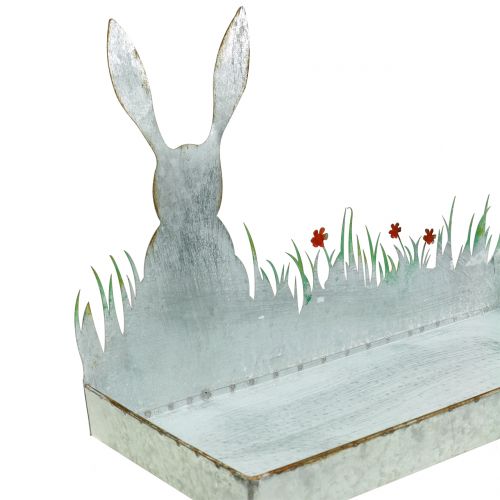 Zinc Tray Spring Meadow with Easter Bunny 35cmx16cm H24cm
With your decor, the zinc tray is a wonderful planter for your spring decoration, it shows a spring meadow and Easter bunny. The galvanized metal vessel from the VIANA range has a rectangular layout and is gently washed in white. At the back of the zinc vessel is a metal-stamped bezel that presents the outlines of a wonderfully spring-like scene: a little Easter bunny sits curiously between his early flowering plants and tall grass, his ears pricked curiously. Straws and flowers are discreetly covered with paint, which underlines the distinctive appearance of the zinc tray. The deco tray fits wonderfully into country house deco in trendy shabby chic.


How wonderful it will be on your windowsill or sideboard when you plant the metal tray with typical spring flowers, such as tulips, daffodils or crocuses. Garnished with a bit of moss and colorful eggs, this creation is guaranteed to sweeten the Easter holiday. Easter decoration like this is what really gets us in the mood for spring. If you want to plant the tray directly, make sure to avoid waterlogging, for example by placing a layer of sand on the ground or even better plant foliage.

The zinc tray, which has a decor that shows a spring meadow and Easter bunny, has on the ground the dimensions of about 35 by 16 centimeters. Their height is about 24 centimeters in total. The depth of the shell itself is about 3 centimeters.

Dimensions: 35cm x 16cm
Height: about 24cm
Depth: approx. 3cm
Color: gray, white, red, green
Material: metal
Quantity: 1 piece

Please note: This product is made of galvanized, post-treated steel sheet. For this reason, we can not guarantee that the vessel is 100% rustproof and 100% waterproof.
various payment options, purchase on account
97% positive customer reviews
weekly discount promotions in the newsletter
our YouTube channel explains many articles
extensive customer service

DHL World Package
Delivery will be made within 5-7 working days. The delivery period starts after conclusion of the contract and ends after 5-7 working days. If the last day of the period falls on a Saturday, Sunday or a general public holiday recognized at the place of delivery, the next working day shall be substituted for such day.
| | |
| --- | --- |
| Calculation | Total price |
| to 5,00 kg | £ 5,90 * |
| over 5,00 to 15,00 kg | £ 13,50 * |
| over 15,00 to 30,00 kg | £ 26,50 * |
| over 30,00 to 60,00 kg | £ 52,00 * |
| over 60,00 to 120,00 kg | £ 104,00 * |
| over 120,00 kg | Please make a new order |
Our top offers January 2020
* all prices incl. 20 % VAT.,
excl. shipping costs
Crossed out prices correspond to the previous price.

more categories suitable for this article
You May Also Like
* all prices incl. 20 % VAT.,
excl. shipping costs
Crossed out prices correspond to the previous price.