Wooden tray with deco plug Spring meadow 43cm
£ 15,40
incl. 20 % VAT., excl. shipping costs
Product.Nr. 64579
weight 0.80 KG
delivery time 5-7 days

16 reviews, rated on average 5
13827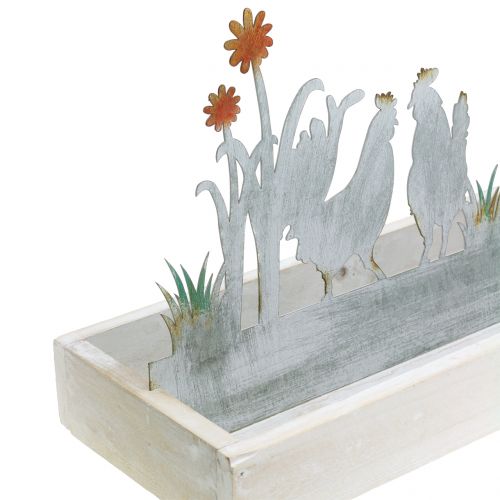 Wooden tray with deco plug Spring meadow 43cm
This charming wooden tray charms any spring decoration with the metal spring-shaped meadow to stick in. The metal decoration can easily be put into the wooden tray and has a spring meadow with flowers, grass and proud roosters. Tray and sheet metal were washed in white, the flowers of the flowers are subtly dyed in red and some blades of grass in green. The vintage look is complemented by slight rust effects on the metal.
This magnificent contrast between natural wood and precious metal provides the ideal basis for a great table decoration in spring and becomes a festive Easter decoration with the right Easter accessories such as eggs, deco bunnies and moss. The decorative tray fits perfectly into the center of a table or into the window sill and can be effectively decorated. Even small glass lanterns with flickering tealights have their place on the tray and also create a cozy atmosphere.

The white washed wooden tray by VIANA with the metal decoration for sticking has an approximate length of 43 centimeters and a width of about 13 centimeters. The height is about 20 centimeters with plug.

Length: about 43cm
Width: about 13cm
Height with metal plug: about 20cm
Color: White washed
Material: wood, metal
Quantity: 1 piece
various payment options, purchase on account
97% positive customer reviews
weekly discount promotions in the newsletter
our YouTube channel explains many articles
extensive customer service

DHL World Package
Delivery will be made within 5-7 working days. The delivery period starts after conclusion of the contract and ends after 5-7 working days. If the last day of the period falls on a Saturday, Sunday or a general public holiday recognized at the place of delivery, the next working day shall be substituted for such day.
| | |
| --- | --- |
| Calculation | Total price |
| to 5,00 kg | £ 5,90 * |
| over 5,00 to 15,00 kg | £ 13,50 * |
| over 15,00 to 30,00 kg | £ 26,50 * |
| over 30,00 to 60,00 kg | £ 52,00 * |
| over 60,00 to 120,00 kg | £ 104,00 * |
| over 120,00 kg | Please make a new order |
Our top offers April 2020
* all prices incl. 20 % VAT.,
excl. shipping costs
Crossed out prices correspond to the previous price.

more categories suitable for this article
You May Also Like
* all prices incl. 20 % VAT.,
excl. shipping costs
Crossed out prices correspond to the previous price.