Wedding decoration garland gypsophila with eyelets white 180cm
£ 7,90
£ 4,39 per metre
incl. 20 % VAT., excl. shipping costs
Product.Nr. 252894-11
weight 0.42 KG
delivery time 5-7 days

16 reviews, rated on average 4.9
16702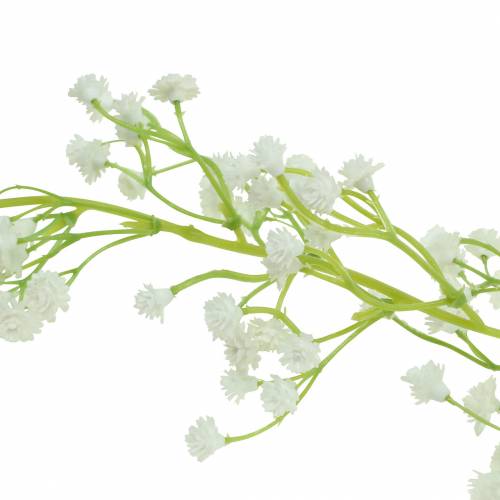 Wedding decoration garland gypsophila with eyelets white 180cm
With its countless flowers, the artificial gypsophila garland in flower decorations proves to be a timeless classic. For a floral wall decoration, this decorative garland is already equipped with an eyelet at each end. As a result, the artificial plant can be hung anywhere immediately, both on two nails in the wall and with a little thread or wire on a pole or a ledge.

In nature, the summer perennial with the small flowers is an extremely popular and decorative accessory in bouquets. Therefore, the artificial plant can be wonderfully processed into a large arrangement with other silk flowers. To do this, place the garland on floral foam and then attach the flowers over it. Thanks to the eyelets, it can also be easily fixed as a decoration in your summer arrangement.

In a refreshing white, the flower garland in white makes a wonderful wedding decoration. Because if you only want to use real plants, it is very difficult to wind a comparable gypsophila garland. For all restaurants, halls or restaurants that are regularly used for wedding celebrations, there is also the advantage that the gypsophila made of plastic never withers.

The artificial gypsophila garland in white has a total length of approximately 190 centimeters. About 10 centimeters of it are on the ends with the practical eyelets for hanging. The flowers are designed differently and have an approximate diameter between 0.8 and 1 centimeter.

Total length: approx. 190 cm
Length of hanger with eyelets: approx. 10 cm

Diameter flowers: approx. 08 cm - 1 cm
Color: green, white
Material: plastic, metal
Quantity: 1 pc
automatically translated to google
various payment options, purchase on account
97% positive customer reviews
weekly discount promotions in the newsletter
our YouTube channel explains many articles
extensive customer service

DHL World Package
Delivery will be made within 5-7 working days. The delivery period starts after conclusion of the contract and ends after 5-7 working days. If the last day of the period falls on a Saturday, Sunday or a general public holiday recognized at the place of delivery, the next working day shall be substituted for such day.
| | |
| --- | --- |
| Calculation | Total price |
| to 5,00 kg | £ 5,90 * |
| over 5,00 to 15,00 kg | £ 13,50 * |
| over 15,00 to 30,00 kg | £ 26,50 * |
| over 30,00 to 60,00 kg | £ 52,00 * |
| over 60,00 to 120,00 kg | £ 104,00 * |
| over 120,00 kg | Please make a new order |
Our top offers April 2020
* all prices incl. 20 % VAT.,
excl. shipping costs
Crossed out prices correspond to the previous price.

You May Also Like
* all prices incl. 20 % VAT.,
excl. shipping costs
Crossed out prices correspond to the previous price.