Sisal cuff heart bleached 25.5cm 10pcs
£ 10,25
£ 1,03 per piece
incl. 20 % VAT., excl. shipping costs
Product.Nr. 67677
weight 0.33 KG
delivery time 5-7 days

15 reviews, rated on average 4.9
16706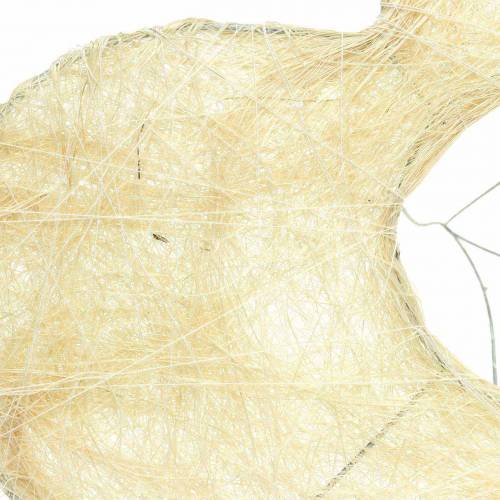 Sisal cuff heart bleached 25.5cm 10pcs
This bleached sisal flower cuff leaves nothing to be desired.
The fine and soft natural material sisal is attached to a wire structure with thread. So the heart always keeps its shape. The wire mesh not only gives your bouquet more stability, but can also be easily fixed in floral foam.

Create original wedding decorations with the sisal heart of the luxury brand VIANA. Through the hole in the middle you can simply attach colorful decorative ribbons to the decorative heart and insert roses or a small bouquet as a table decoration. Your bridal bouquet is just as beautiful with the heart-shaped cuff. But of course the sisal heart is also a wonderful idea for stylishly handing over a bouquet of flowers for Valentine's Day.

The bleached heart-shaped sisal cuffs with a wire frame have a size of approximately 25.5 to 24 centimeters. The height is about 17 centimeters. Each pack contains 10 cuffs.

Heart size : approx.25.5cm × 24cm
Height (wire mesh) : approx.17cm
Hole diameter : approx. Ø6cm

Color : white (bleached)
Material : sisal, wire
Quantity
: 10 pieces
automatically translated to google
various payment options, purchase on account
97% positive customer reviews
weekly discount promotions in the newsletter
our YouTube channel explains many articles
extensive customer service

DHL World Package
Delivery will be made within 5-7 working days. The delivery period starts after conclusion of the contract and ends after 5-7 working days. If the last day of the period falls on a Saturday, Sunday or a general public holiday recognized at the place of delivery, the next working day shall be substituted for such day.
| | |
| --- | --- |
| Calculation | Total price |
| to 5,00 kg | £ 5,90 * |
| over 5,00 to 15,00 kg | £ 13,50 * |
| over 15,00 to 30,00 kg | £ 26,50 * |
| over 30,00 to 60,00 kg | £ 52,00 * |
| over 60,00 to 120,00 kg | £ 104,00 * |
| over 120,00 kg | Please make a new order |
Our top offers April 2020
* all prices incl. 20 % VAT.,
excl. shipping costs
Crossed out prices correspond to the previous price.

more categories suitable for this article
You May Also Like
* all prices incl. 20 % VAT.,
excl. shipping costs
Crossed out prices correspond to the previous price.