Rectangular handle basket natural 34 × 26/29 × 20/24 ×...
£ 23,20

*
Rectangular handle basket natural 34 × 26/29 × 20/24 × 15cm, set of 3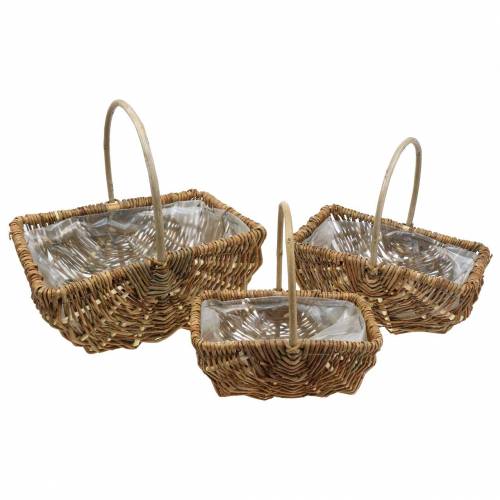 Delivery till 30. July **
---

Product description
The floral decoration to take away: the rectangular handle basket in natural colors is like a nostalgic picnic basket.
Instead of a lid, you will soon see colorful flowers peeping out of the basket. The trio is woven from willow branches, with the star-shaped struts that catch the eye due to the lighter tone. This creates an exclusive two-tone design. For direct planting, the wicker baskets are lined with a high-quality plastic film.

Only a little bit of gravel or expanded clay is missing to avoid waterlogging and you can get started: Horned violets, tillandsia or succulents - whatever is pleasing and does not develop roots that are too deep is allowed. Even ivy that grows over the handle is an eye-catcher in the decorative basket as a houseplant. In a decoration with silk flowers, leaf garlands or blossoms twine around the long handles. For Easter you can populate the wooden picnic basket with eggs, chicks and bunnies. You do not have to decide whether you prefer to design a nest with Easter grass or use colored early bloomers and decorative plugs: With the three baskets, you can implement several decorative ideas each season.

You get the rectangular wooden handle basket as a beautiful set of three in different sizes. Including handles, the baskets come to an approximate height of 24.5, 28.5 and 34 centimeters, respectively. The baskets round up and reach outer dimensions of around 24 × 15, 29 × 20 and 34 × 26 centimeters at the edges. The plastic film for protection against moisture is attached to the upper frame with thread.
Dimensions basket small: approx. 24 cm × 15 cm
Dimensions basket medium: approx.29cm × 20cm

Dimensions basket large: approx.34cm × 26cm
Maximum depth: approx.9cm / 11cm / 15cm

Height with handle: approx.24.5cm / 28.5cm / 34cm

Color:
natural colors
Material:
wood, plastic, thread, metal
Quantity:
1 set of 3 baskets
Prod. nr.
: 69623
Weight
: 1,22 kg
Delivery till
: 30. July
**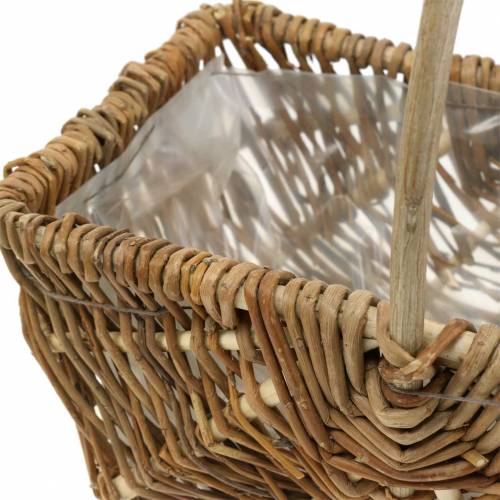 ---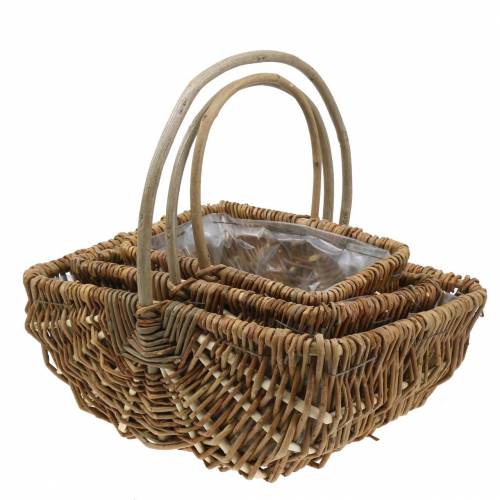 * All prices incl. 20 % VAT,
Excl. shipping costs
Crossed-out prices correspond to the previous price. Plus any applicable customs duties.
** Except prepayment. After the invoice amount has been credited to our account, we will process your order immediately.
Further categories matching your selection