Poinsettia Bouquet Red Velvet 35cm
£ 5,00
incl. 20 % VAT., excl. shipping costs
Product.Nr. 65194
weight 0.30 KG
delivery time 5-7 days
16 reviews, rated on average 4.8
15798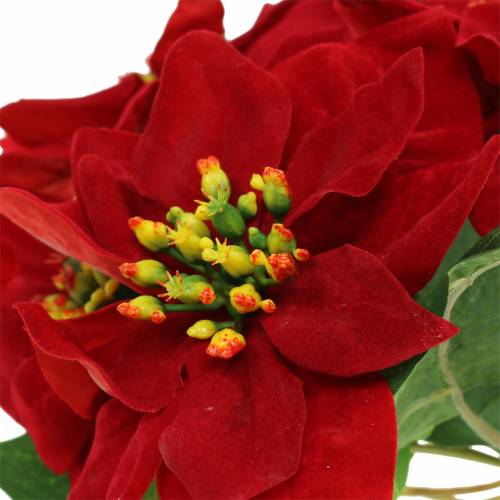 Poinsettia Bouquet Red Velvet 35cm
This is the name of the botanical name Euphorbia pulcherrima - and that's right, the poinsettia or even Christstern is not least the most popular plant during the Christmas season.With our artificial version as a bouquet with a total of 5 magnificent red flowers, you will receive Now the Advent star is always in a fresh and lush beauty The flowers of the silk flower converge into a strand, whereby the individual stems can be shaped individually thanks to the integrated wire core.

Only since the 1950s is the poinsettia known in Germany, did you know that? For example, we can imagine a great table decoration with the bouquet by putting it in a chic vase. Also on the windowsill or on a small side table, the plant looks wonderfully festive. If you want to festive decorate a arrangement or a wreath, then you can easily separate and incorporate the flowers of Christstars.
The poinsettia with deep red, velvety flowers, consists of five high-quality green plastic branches and is about 35 centimeters long. The beautiful flower heads are about 14 centimeters in diameter.
Size:
about 35cm
Flower
diameter:
approx. Ø14cm
Color:
red, yellow, green
Material:
plastic, metal wire
Quantity:
1 piece
various payment options, purchase on account
97% positive customer reviews
weekly discount promotions in the newsletter
our YouTube channel explains many articles
extensive customer service

DHL World Package
Delivery will be made within 5-7 working days. The delivery period starts after conclusion of the contract and ends after 5-7 working days. If the last day of the period falls on a Saturday, Sunday or a general public holiday recognized at the place of delivery, the next working day shall be substituted for such day.
| | |
| --- | --- |
| Calculation | Total price |
| to 5,00 kg | £ 5,90 * |
| over 5,00 to 15,00 kg | £ 13,50 * |
| over 15,00 to 30,00 kg | £ 26,50 * |
| over 30,00 to 60,00 kg | £ 52,00 * |
| over 60,00 to 120,00 kg | £ 104,00 * |
| over 120,00 kg | Please make a new order |
Our top offers December 2019
* all prices incl. 20 % VAT.,
excl. shipping costs
Crossed out prices correspond to the previous price.

more categories suitable for this article
You May Also Like
* all prices incl. 20 % VAT.,
excl. shipping costs
Crossed out prices correspond to the previous price.