Plastic Christmas Baubles red, white Ø8cm 3pcs
£ 3,00 £ 1,50 you save 50% (£ 1,50)
£ 0,50 per piece
incl. 20 % VAT., excl. shipping costs
Crossed out prices correspond to the previous price.
Product.Nr. 027626
weight 0.20 KG
delivery time 5-7 days
16 reviews, rated on average 4.9
12408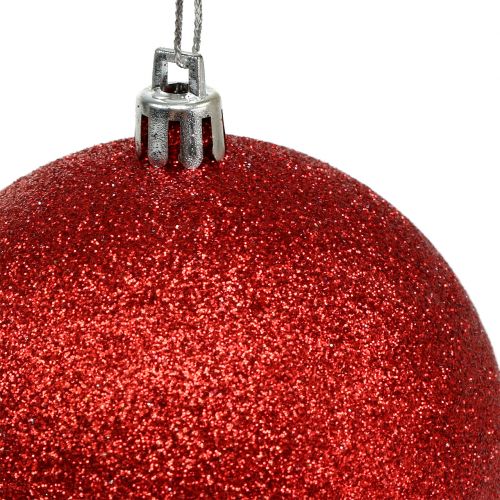 Plastic Christmas Baubles red, white Ø8cm 3pcs
With these classic Christmas tree baubles made of plastic in red and white, your Christmas fir will shine on Christmas Eve in festive splendor. Timeless design meets high quality workmanship. The Christmas balls are made of a plastic alloy, which ensures a high resistance to breakage. So your Christmas tree will stay classically beautiful even if your children or the cat are busy with the Advent balls in an unnoticed moment. With this beautiful design your Christmas tree full attention is certainly safe!

The set includes two variants, both of which are in the tradition of classic Christmas tree decorations and Christmas decorations. While the ball in red is covered with mica, the ball has a striped pattern in red and white. Between the white glitter, the shiny red surface of the Advent jewelery flashes forth. A silver eyelet allows you to easily attach to the Christmas tree and immediately blends in wonderfully with the traditional design. But not only to old-fashioned Advent deco match the balls wonderful. Combine them with modern elements of the Christmas decoration, such as tree hangings and hangers in the shape of pumps or champagne glasses to create a funny contrast. Or you simply present the artificial balls on a wooden plate, which you use as a pre-Christmas table decoration.

The Christmas tree balls made of plastic in red and white are delivered in a set of 3 pieces. It contains two forms: A variant is completely covered with red mica and has a regular surface. The other variant, of which 2 specimens are included, has a ribbed surface and is striped red and white, with the white portion consisting of mica and the red portion leaving the smooth shiny surface. Each ball has a diameter of about 8 centimeters and with the eyelet a total length of about 15 centimeters.

Size: approx. Ø8cm
Length (with loop): approx. 15cm
Color: red, white, mica, silver
Material: Plastic
Quantity: 3 pieces
£ 3,00
£ 1,50 *
you save 50% (£ 1,50)
various payment options, purchase on account
97% positive customer reviews
weekly discount promotions in the newsletter
our YouTube channel explains many articles
extensive customer service

DHL World Package
Delivery will be made within 5-7 working days. The delivery period starts after conclusion of the contract and ends after 5-7 working days. If the last day of the period falls on a Saturday, Sunday or a general public holiday recognized at the place of delivery, the next working day shall be substituted for such day.
| | |
| --- | --- |
| Calculation | Total price |
| to 5,00 kg | £ 5,90 * |
| over 5,00 to 15,00 kg | £ 13,50 * |
| over 15,00 to 30,00 kg | £ 26,50 * |
| over 30,00 to 60,00 kg | £ 52,00 * |
| over 60,00 to 120,00 kg | £ 104,00 * |
| over 120,00 kg | Please make a new order |
Our top offers December 2019
* all prices incl. 20 % VAT.,
excl. shipping costs
Crossed out prices correspond to the previous price.

more categories suitable for this article
You May Also Like
* all prices incl. 20 % VAT.,
excl. shipping costs
Crossed out prices correspond to the previous price.