Planter Hedgehog from vines 22cm x 25cm
£ 5,50 £ 4,55 you save 17% (£ 0,95)
incl. 20 % VAT., excl. shipping costs
Crossed out prices correspond to the previous price.
Product.Nr. 88489
weight 0.50 KG
delivery time 5-7 days
14 reviews, rated on average 4.6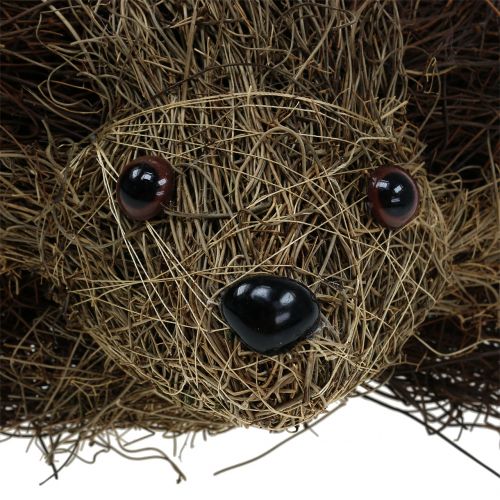 Planter Hedgehog from vines 22cm x 25cm
Imagine how this hedgehog vines planter will greet the fall in your home with button eyes and snub nose! If the spiky fellows are occasionally back at dusk, we know the summer is coming to an end. It is one of the most beautiful traditions to accompany this run of the seasons also decoratively, whether in home, garden or business premises. How beautiful will your room or shop window appear, with an autumnal planting of colorful asters and stonecrops, transplanted into a cute planter like this one. For this to succeed, the hedgehog figure has a saving on the top, which is lined with foil.

The deco hedgehog is made of natural materials and looks just great. The cute face of the decorative container VIANA is made of natural branches and is rounded off by the eyes and nose of the plastic. His spiky dress is made entirely of filigree vine branches in brown, which are carefully woven into a sturdy wire-set. With the decorative hedgehog, you can create a fall decoration that creates a very special atmosphere through the contrast of rustic vine branches and delicate autumn flowers.

The planter made of vines in the shape of a hedgehog has a height of about 13 centimeters, a width of about 22 centimeters and a length of about 25 centimeters. The depth of the vessel for implantation is about 9.5 centimeters, the diameter about 10 centimeters.

Length: about 25cm
Width: about 22cm
Total height: about 13cm
Deep planter: about 9,5cm
Diameter planter: approx. Ø10cm
Color: brown, nature
Material: wood, metal, plastic
Quantity: 1 piece
£ 5,50
£ 4,55 *
you save 17% (£ 0,95)
daily new articles
various payment options, purchase on account
97% positive customer reviews
weekly discount promotions in the newsletter
our YouTube channel explains many articles
extensive customer service

DHL World Package
Delivery will be made within 5-7 working days. The delivery period starts after conclusion of the contract and ends after 5-7 working days. If the last day of the period falls on a Saturday, Sunday or a general public holiday recognized at the place of delivery, the next working day shall be substituted for such day.
| | |
| --- | --- |
| Calculation | Total price |
| to 5,00 kg | £ 5,90 * |
| over 5,00 to 15,00 kg | £ 13,50 * |
| over 15,00 to 30,00 kg | £ 26,50 * |
| over 30,00 to 60,00 kg | £ 52,00 * |
| over 60,00 to 120,00 kg | £ 104,00 * |
| over 120,00 kg | - No Shipping - |
Our top offers September 2019
* all prices incl. 20 % VAT.,
excl. shipping costs
Crossed out prices correspond to the previous price.
You May Also Like
* all prices incl. 20 % VAT.,
excl. shipping costs
Crossed out prices correspond to the previous price.