Pigeon on wire white 10cm 6pcs
£ 16,45
£ 2,74 per piece
incl. 20 % VAT., excl. shipping costs
Product.Nr. 67884
weight 0.44 KG
delivery time 5-7 days

14 reviews, rated on average 4.8
16094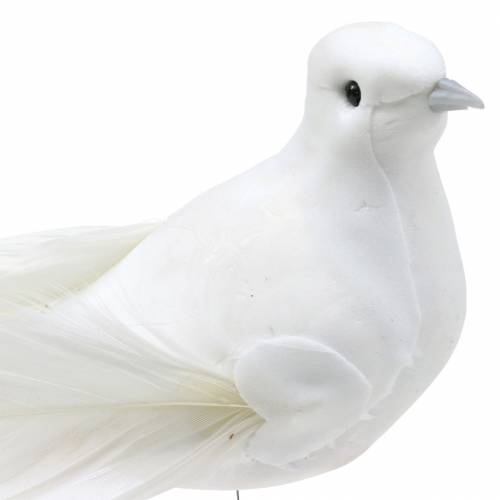 Pigeon on wire white 10cm 6pcs
The white pigeons look really cute with their cute, black button eyes and gray beaks. But the real highlight of the bright white bird is the curly, long tail feather, which gives your spring decoration airy swing.
For example, you can incorporate the decorative birds from VIANA into an artistic table wreath or place them on small decorative branches. To do this, wind the thin wire of the white doves around the branch so that the birds do not fall down. With small accessories such as a chain of lights, you can create an enchanting window decoration. Or put the wire in some florist foam or simply in the ground. You have already integrated the decorative pigeon into your flower arrangement or embellished a flower box with it! The small feather birds are of course particularly popular for wedding decorations, but please only as a couple!
The white dove on the wire is delivered in a box of 6 pieces and has a total height of about 28 centimeters with the wire. The decorative bird itself is about 7 centimeters high. With the curled tail feather, its length is approximately 22 centimeters.
Dimensions:
approx. 22 cm (length including feather) x 7 cm (height bird)
Total height with wire:
approx. 28 cm
Material:
plastic, spring, wire
Color:
white, gray, black
Quantity:
6 pieces
automatically translated to google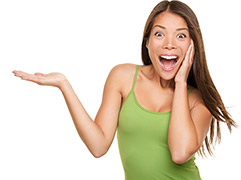 various payment options

97% positive customer reviews
weekly discount promotions in the newsletter
our YouTube channel explains many articles
extensive customer service

DHL World Package
Delivery will be made within 5-7 working days. The delivery period starts after conclusion of the contract and ends after 5-7 working days. If the last day of the period falls on a Saturday, Sunday or a general public holiday recognized at the place of delivery, the next working day shall be substituted for such day.
| | |
| --- | --- |
| Tiered pricing | Total price |
| to 5,00 kg | £ 4,00 * |
| over 5,00 to 15,00 kg | £ 6,50 * |
| over 15,00 to 30,00 kg | £ 19,50 * |
| over 30,00 to 60,00 kg | £ 39,00 * |
| over 60,00 to 120,00 kg | £ 62,50 * |
| over 120,00 kg | Please make a new order |
Our top offers September 2020
* all prices incl. 20 % VAT.,
excl. shipping costs
Crossed out prices correspond to the previous price.

You May Also Like
* all prices incl. 20 % VAT.,
excl. shipping costs
Crossed out prices correspond to the previous price.