Natural feathers 5.5 - 10cm 10g
£ 5,90
incl. 20 % VAT., excl. shipping costs
Product.Nr. 67862
weight 0.35 KG
delivery time 5-7 days

18 reviews, rated on average 5
16109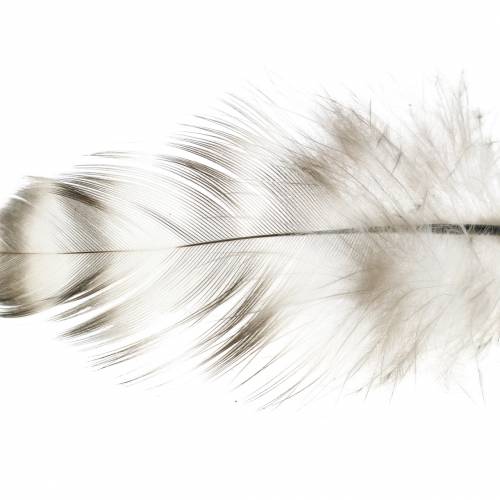 Natural feathers 5.5 - 10cm 10g
They nestle softly on the cheek - but the small decorative feathers are much too good for a pillow filling. Because they offer almost endless design options.

As an eye-catcher on fashionable accessories or jewelry, they can be combined with chains or earrings made of metal or leather. If you add colorful decorative pearls, you will get stunning creations that have sprung from your imagination.
The natural feathers can also be used for handicrafts. For example, children can easily make a bird that is as funny as it is beautiful by pulling remnants of fabric or a sock over a styrofoam ball, cutting out feet and eyes from felt and designing the wings and tail from these small bird feathers and using glue and a staple on the decorative figure fasten. Use a piece of thread to make the bird a decorative hanger. Owl chicks, monsters or mythical creatures with natural feathers - the real feathers from VIANA are also suitable for puppets. Original table decorations, a dream catcher or a door wreath give them the finishing touch.
The fluffy feathers in natural colors are supplied in a plastic box with a total weight of approximately 20 grams. The decorative feathers can be between 5.5 and 10 centimeters long.

Please note: it is a natural product ! This means that the product is subject to natural fluctuations and can therefore differ in shape, color, size, width, length and diameter from the specified dimensions !

Lengths:
approx.5.5cm - 10cm
Color:
natural colors
Material:
real bird feathers
Weight:
approx.10g
automatically translated to google
various payment options, purchase on account
97% positive customer reviews
weekly discount promotions in the newsletter
our YouTube channel explains many articles
extensive customer service

DHL World Package
Delivery will be made within 5-7 working days. The delivery period starts after conclusion of the contract and ends after 5-7 working days. If the last day of the period falls on a Saturday, Sunday or a general public holiday recognized at the place of delivery, the next working day shall be substituted for such day.
| | |
| --- | --- |
| Calculation | Total price |
| to 5,00 kg | £ 5,90 * |
| over 5,00 to 15,00 kg | £ 13,50 * |
| over 15,00 to 30,00 kg | £ 26,50 * |
| over 30,00 to 60,00 kg | £ 52,00 * |
| over 60,00 to 120,00 kg | £ 104,00 * |
| over 120,00 kg | Please make a new order |
Our top offers April 2020
* all prices incl. 20 % VAT.,
excl. shipping costs
Crossed out prices correspond to the previous price.

more categories suitable for this article
You May Also Like
* all prices incl. 20 % VAT.,
excl. shipping costs
Crossed out prices correspond to the previous price.