Natural feathers 4.5 - 9cm 20g
£ 6,15
incl. 20 % VAT., excl. shipping costs
Product.Nr. 67863
weight 0.35 KG
delivery time 5-7 days

17 reviews, rated on average 5
16108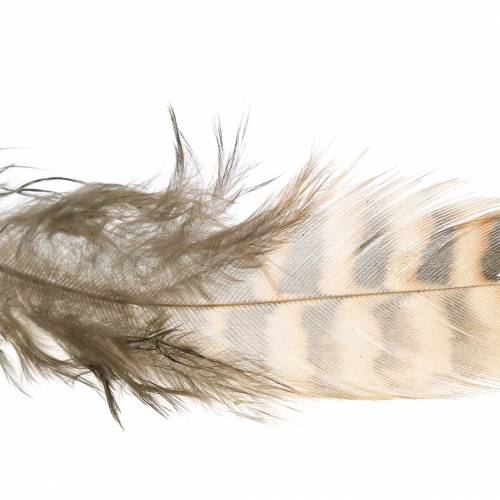 Natural feathers 4.5 - 9cm 20g
These little feathers in nature invite you to tinker and design: With the real bird feathers from VIANA, you can do a lot!
In the autumn decoration with natural materials, the brown feathers come into their own with their attractive black pattern. Perhaps you are decorating a fluffy-soft nest with it for Easter? You can achieve beautiful effects with feathers on paper and cardboard. Whether you're designing a sophisticated collage in art class or just letting younger students experiment with the hot glue gun and real feathers - great effects and fun crafting are always guaranteed. Since the small bird feathers are so easy to work with, you will always use them to design new fashion accessories at home. Attach the decorative feathers to earrings or pendants in a trendy ethnic look. Or give away self-made dream catchers, from which these beautiful feathers dangle!
The small feathers in nature are supplied in a plastic box with a total weight of approximately 20 grams. The decorative feathers can be between 4.5 and 9 centimeters long.

Please note: it is a natural product ! This means that the product is subject to natural fluctuations and can therefore differ in shape, color, size, width, length and diameter from the specified dimensions !


Lengths: approx.4.5cm - 9cm
Color: natural colors
Material: real bird feathers
Weight: approx.20g

automatically translated to google
various payment options, purchase on account
97% positive customer reviews
weekly discount promotions in the newsletter
our YouTube channel explains many articles
extensive customer service

DHL World Package
Delivery will be made within 5-7 working days. The delivery period starts after conclusion of the contract and ends after 5-7 working days. If the last day of the period falls on a Saturday, Sunday or a general public holiday recognized at the place of delivery, the next working day shall be substituted for such day.
| | |
| --- | --- |
| Calculation | Total price |
| to 5,00 kg | £ 5,90 * |
| over 5,00 to 15,00 kg | £ 13,50 * |
| over 15,00 to 30,00 kg | £ 26,50 * |
| over 30,00 to 60,00 kg | £ 52,00 * |
| over 60,00 to 120,00 kg | £ 104,00 * |
| over 120,00 kg | Please make a new order |
Our top offers April 2020
* all prices incl. 20 % VAT.,
excl. shipping costs
Crossed out prices correspond to the previous price.

more categories suitable for this article
You May Also Like
* all prices incl. 20 % VAT.,
excl. shipping costs
Crossed out prices correspond to the previous price.