Metal cup black Ø15cm H15cm
£ 7,55

*
Metal cup black Ø15cm H15cm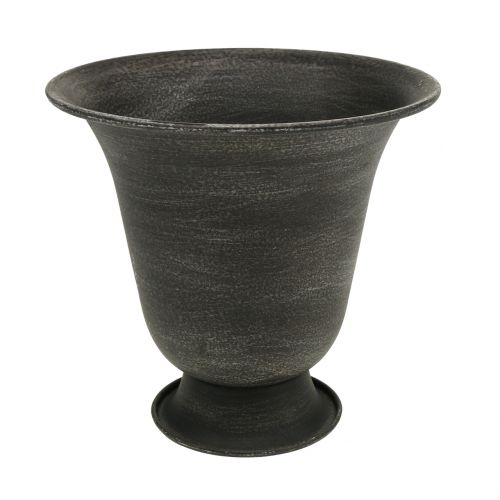 Delivery till 2. October **

Shipping within 24 hours
Only 2 left in stock.
---

Product description
An optical piece of jewelery presents itself with this decoration cup from the exclusive product series VIANA. The vessel is freely modeled on a historical amphora and binds the viewer's gaze through the elegant appearance. The black coloring of the deco plant pot is provided with a slightly white wash, which emphasizes the antique style yet beautiful.
Create a visual eye-catcher by planting the deco pot in fresh green or with artistic floral arrangements. All you need is some floral foam and dried flowers. The arrangement will be particularly refined if you add accessories such as pearl studs and decorative ribbons. With such a piece of jewelery with historical flair it may quietly sometimes something opulenter approach! For this we offer a wide selection of accessories in our range. Place your artwork on a festive table as a magnificent table decoration and let your guests be amazed.
The metal cup in black has a diameter of about 15 centimeters at the upper edge, the diameter of the stand is about 8.5 centimeters. The height is about 15 centimeters. When planting, be sure to line the container with plant foil and avoid stagnant water.
Diameter (vessel): approx. Ø15cm
Diameter (foot): approx. Ø8,5cm
Height: about 15cm
Color: Black
Material: metal
Quantity: 1 piece
Please note: This product is made from galvanized, post-treated sheet steel. For this reason, we cannot guarantee that the container is 100% rustproof and 100% waterproof.

Prod. nr.
: 89236
Weight
: 0,4 kg
Delivery till
: 2. October
**
more item pictures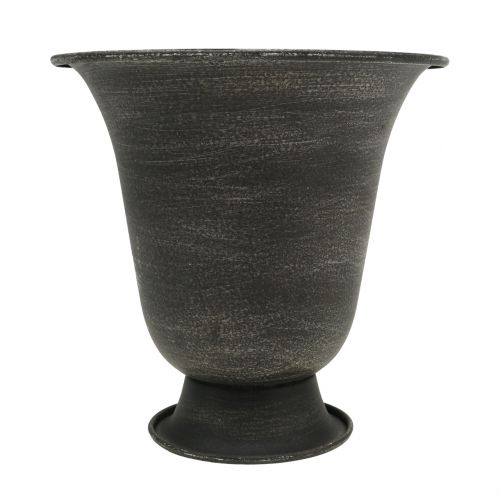 * All prices incl. 20 % VAT,
Excl. shipping costs
Crossed-out prices correspond to the previous price. Plus any applicable customs duties.
** Except prepayment. After the invoice amount has been credited to our account, we will process your order immediately.
Further categories matching your selection