Large basket with handles planter willow brown Ø40cm H13cm
£ 9,80
incl. 20 % VAT., excl. shipping costs
Product.Nr. 67660
weight 0.60 KG
delivery time 5-7 days

17 reviews, rated on average 4.8
16692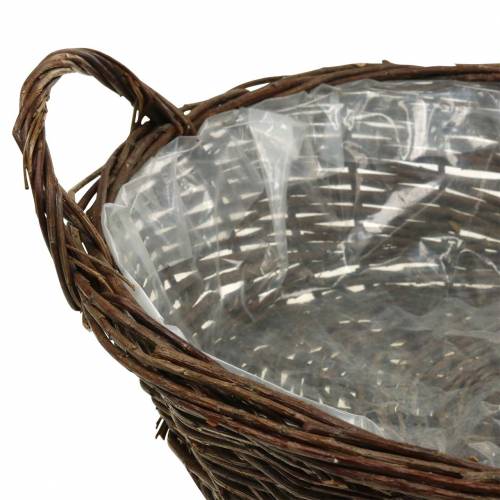 Large basket with handles planter willow brown Ø40cm H13cm
With this large round basket with handles you can draw from the full in terms of Easter basket and planter. With a handsome diameter of 40 centimeters, the basket made of dark willow branches offers a lot of space for creative plantings and countless Easter eggs.
Inside the wicker basket is a plastic film. This ensures that no irrigation water can escape and soil cannot trickle through. So you can start planting straight away and let your creativity run wild. Either you choose a type of flower, such as primrose or bellis, or you plant many different early bloomers side by side. In combination with artificial Easter eggs, flower pins or candles, you can conjure up wonderful Easter arrangements. Last but not least, you can use it to design a mega Easter nest for the whole family. Thanks to the size, all family members can snack out of the nest together.

The diameter of the round wicker basket is approximately 40 centimeters. Including the handle, the natural wicker basket has a height of around 17.5 centimeters. Measured without a handle, the basket is approximately 13 centimeters high.
Diameter
: approx Ø40cm
Height (including side handle / without handle)
: approx.17.5cm / 13cm
Color
: dark brown
Material
: wood, plastic, cotton
Quantity
: 1 pc
automatically translated to google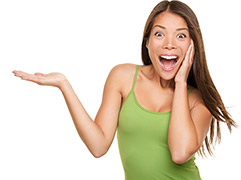 various payment options

97% positive customer reviews
weekly discount promotions in the newsletter
our YouTube channel explains many articles
extensive customer service

DHL World Package
Delivery will be made within 5-7 working days. The delivery period starts after conclusion of the contract and ends after 5-7 working days. If the last day of the period falls on a Saturday, Sunday or a general public holiday recognized at the place of delivery, the next working day shall be substituted for such day.
| | |
| --- | --- |
| Calculation | Total price |
| to 5,00 kg | £ 5,90 * |
| over 5,00 to 15,00 kg | £ 13,50 * |
| over 15,00 to 30,00 kg | £ 26,50 * |
| over 30,00 to 60,00 kg | £ 52,00 * |
| over 60,00 to 120,00 kg | £ 104,00 * |
| over 120,00 kg | Please make a new order |
Our top offers July 2020
* all prices incl. 20 % VAT.,
excl. shipping costs
Crossed out prices correspond to the previous price.

more categories suitable for this article
You May Also Like
* all prices incl. 20 % VAT.,
excl. shipping costs
Crossed out prices correspond to the previous price.