Handle basket nature 24cm / 16cm 2pcs
£ 9,05

*
Handle basket nature 24cm / 16cm 2pcs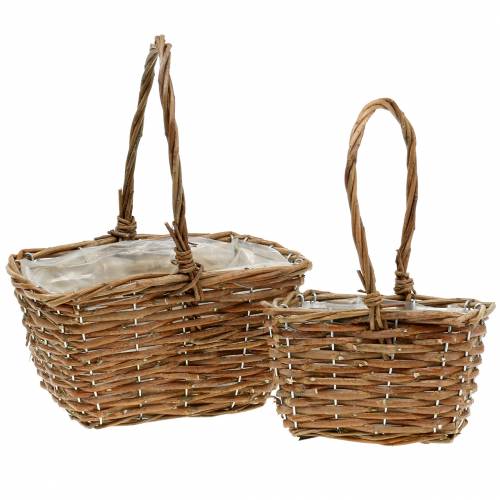 Delivery till 30. July **
---

Product description
The duo of Henkel baskets comes charmingly in a rural style of woven natural pasture to you. Made with foil, the basket is ideal for planting. The set consists of two planters in different sizes. So a larger and a smaller basket in rectangular shape are included in the set. As a result, they can be used to save space. A central handle makes lifting easier and looks very nice.
There are endless uses for you. For example, the decorative baskets can serve wonderfully for decorative arrangements. In herbstdeko, create a lovely Thanksgiving basket by decorating moss, pumpkins and chestnuts in the basket. Or would you prefer to keep fruit or vegetables in the basket? Filled with a vitamin bomb, you can then give the gift baskets ideal to love people. You can let your creativity run wild! The timelessly rustic design and the durable basketry material enrich your decoration over many years.
The basket, which shines as a set of 2 with its natural colors, is very stable. The small basket has approximately the dimensions 16 x 10 centimeters and the size is approximately 24 x 13 centimeters large. The plastic film is attached to the branches with a thread and protects against escaping liquid.
Dimensions basket small: about 16cm x 10cm
Dimensions basket large: approx. 24cm x 13cm
Color: natural colors
Material: wood, plastic, thread, metal
Quantity: 1 set consisting of 2 baskets
Prod. nr.
: 65830
Weight
: 0,5 kg
Delivery till
: 30. July
**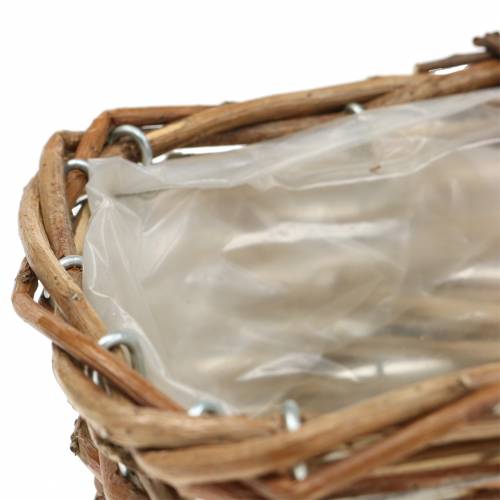 ---
* All prices incl. 20 % VAT,
Excl. shipping costs
Crossed-out prices correspond to the previous price. Plus any applicable customs duties.
** Except prepayment. After the invoice amount has been credited to our account, we will process your order immediately.
Further categories matching your selection