Decorative cup with handles golden Ø11cm H17.8cm antique...
£ 14,10

*
Decorative cup with handles golden Ø11cm H17.8cm antique look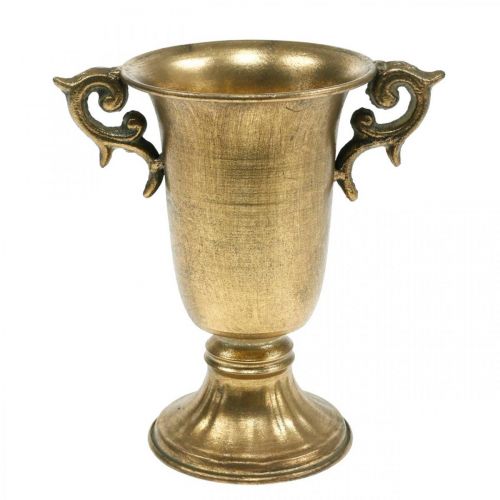 Delivery till 2. October **

Shipping within 24 hours
Only 19 left in stock.
---

Product description
Cup-shaped planters are timeless and give your interior a very special charm.
This high-quality handle cup looks like it is made of solid metal. But it's lighter than it looks. - Only its floral tendril-like handles give it a little more weight.
The metal vessel in a goblet look is painted gold. The surface of the decorative cup is irregularly provided with a dark patina, which reinforces its vintage look. The shape of the metal cup is simple and straightforward. The surface is flat and slightly rough.
You can plant decorative cups or use them as a planter. Metal goblets can also be used as vessels for romantic arrangements or as candle holders.
Or you can use it for a hobby sports competition or an Olympics for children's birthday parties as a handsome trophy for the winners.
If you want to plant the decoration cup, lay it out with plant film beforehand. Put small herbs or climbing plants in it. Ivy, succulents or the hanging pea plant look great in it. With the help of a little plugging compound, you can stick arrangements in the metal goblet for numerous occasions. Whether for a wedding or in Advent, metal goblets in a vintage look are always a good base for arrangement.
If you want to use the goblet as a candle holder, fill the goblet mostly with decorative sand or stones, as it becomes narrower towards the bottom. Then put the candle inside. The candle should be narrower than about 8.6 centimeters.
Decorative cup with handles in gold has a height of about 17.8 centimeters and a diameter of about 11 centimeters. The inside diameter is approximately 8.6 centimeters at the widest point and decreases towards the bottom. With the handles, the decoration goblet has a total width of approximately 17 centimeters. The planting depth is about 12 centimeters.
Width with handles:
17cm
Height:
approx. 17.8 cm
Diameter:
approx. Ø11cm
Inner
diameter:
approx. Ø8.6cm
Planting depth:
12cm
Material:
metal
Color:
Golden
Quantity:
1 piece
Please note:
This product is made from galvanized, post-treated sheet steel. For this reason we can
not guarantee
that the vessel is 100% rustproof and 100% waterproof.
Prod. nr.
: 70121
Weight
: 0,58 kg
Delivery till
: 2. October
**
more item pictures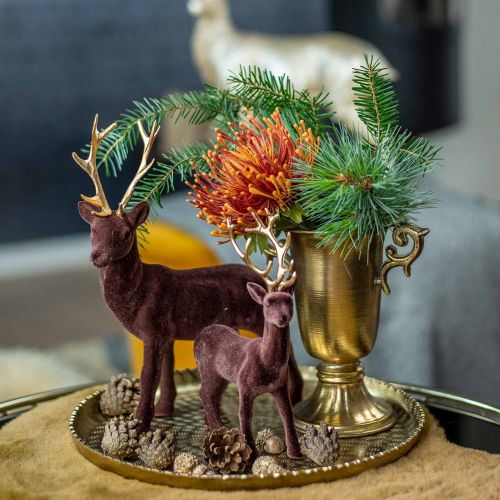 ---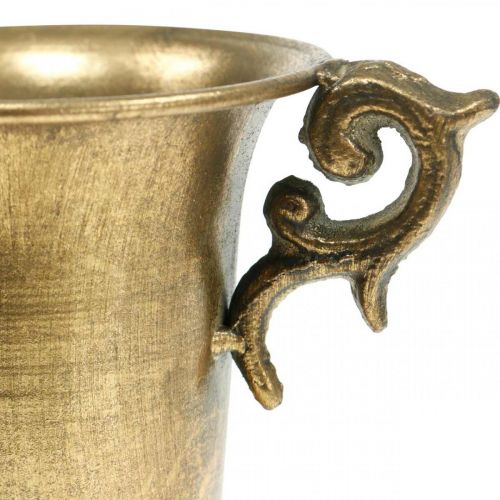 ---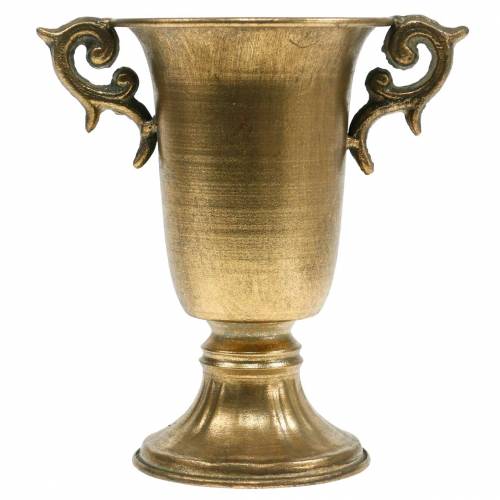 * All prices incl. 20 % VAT,
Excl. shipping costs
Crossed-out prices correspond to the previous price. Plus any applicable customs duties.
** Except prepayment. After the invoice amount has been credited to our account, we will process your order immediately.
Further categories matching your selection