Decorative cup antique look metal moss green Ø9cm H14.5cm
£ 6,20

*
Decorative cup antique look metal moss green Ø9cm H14.5cm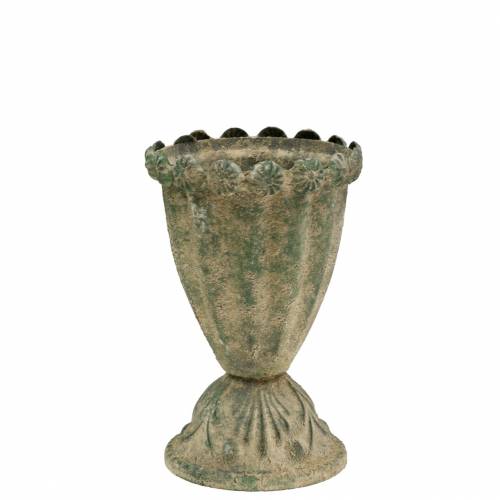 Delivery till 2. October **
---

Product description
More than vintage: the small decorative goblet made of metal looks like an ancient drinking vessel, which archaeologists have just discovered in a ruined city.

The color of the vessel mimics the greenish tone that metal takes on over time due to the influence of wind and weather. Due to the beige coating, the vessel looks as if it has been encrusted with sand and dust. This elaborate design is also continued on the inside. The edge and foot of the decorative cup are decorated with stylized flowers and shell ornaments. The influence of ancient models can be clearly seen.

The metal cup offers many interesting opportunities to effectively stage accessories, holiday souvenirs or interesting natural finds such as sand and shells. You can, for example, position the chalice horizontally on a decorative plate or tray: Interesting coins from your last vacation, an old piece of jewelry or fine sand can then swell over the edge. In this way you can also design an attractive and unusual window decoration!

The goblet made of metal with an antique look has a total height of around 14.5 centimeters. The tall bowl itself is about 10 centimeters deep and has a diameter of about 9 centimeters.
Overall height : approx.14.5 cm
Deep bowl: approx.10cm

Diameter
: approx. Ø9 cm
Color
: moss green, beige, black
Material
: metal
Quantity
: 1 pc
Please note:
This product is made from galvanized, post-treated sheet steel. For this reason, we cannot guarantee that the container is 100% rustproof and 100% waterproof.

Accessories as well as decorative items shown on product images are not part of the product unless they are explicitly included.



Prod. nr.
: 68252
Weight
: 0,38 kg
Delivery till
: 2. October
**
more item pictures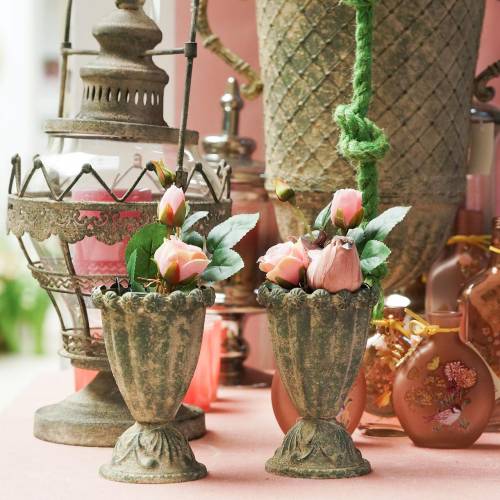 ---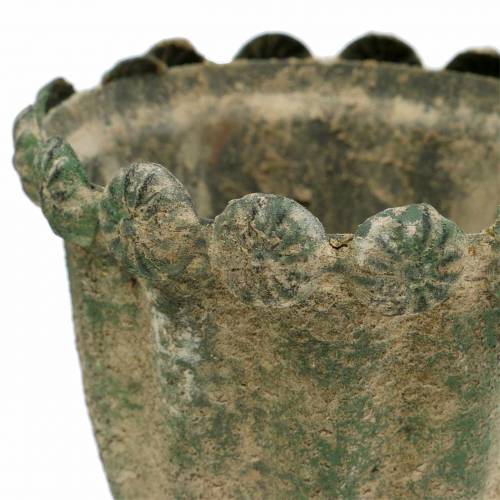 ---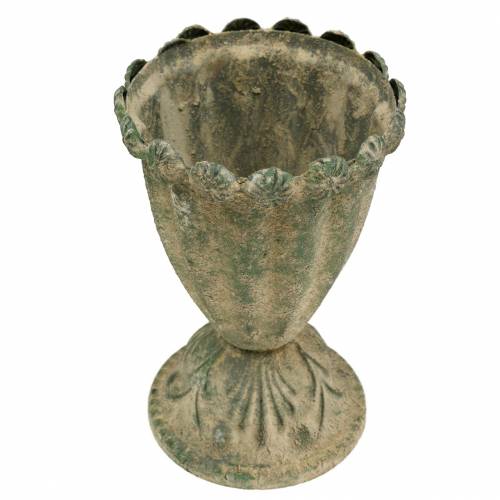 * All prices incl. 20 % VAT,
Excl. shipping costs
Crossed-out prices correspond to the previous price. Plus any applicable customs duties.
** Except prepayment. After the invoice amount has been credited to our account, we will process your order immediately.
Further categories matching your selection