Christmas star in a bunch red Ø18cm L30cm
12,65 £ *
£ 9,45

*
you save 25% (£ 3,20)
Christmas star in a bunch red Ø18cm L30cm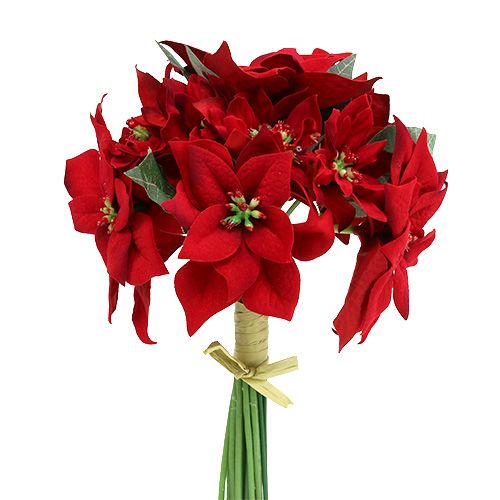 12,65 £ *
£ 9,45

*
you save 25% (£ 3,20)
Delivery till 29. January **
---

Product description
This pretty, artificial Christstern in the Bund is colored with flowers in red and fits perfectly into any Christmas decoration! The bundle consists of 13 individual flowers of different sizes and 6 leaves, all of which are on a green stem with metal wire and tied together with a ribbon of raffia. All flowers of the decorative flower, also known as the Christmas Star, Advent Star and Euphorbia pulcherrima, are shown as open and radiate through both the red color and the yellow-green miniature flowers inside.
For example, you can put the artificial flower bouquet in a vase and equip it with a table, a chest of drawers, a shelf or even a window sill. The red color harmonizes the artificial Christmas flower very well with Christmas decorations such as Christmas baubles and decorative figures. If you cut the ribbon, you can also use the flowers individually and thus work into an Advent wreath or a window decoration!
The artificial Christstern in the Bund in red has a size of about 30 centimeters. The total diameter is about 18 centimeters and the flowers have a diameter of between about 8 and 12 centimeters.


Size:
about 30cm
Diameter:
approx. Ø18cm
Flower
diameter:
approx. Ø8cm - Ø12cm
Color:
red, yellow, green
Material:
plastic, metal, raffia
Quantity:
1 bunch, consisting of 13 single flowers and 6 leaves
Prod. nr.
: 83947
Weight
: 0,25 kg
Delivery till
: 29. January
**
more item pictures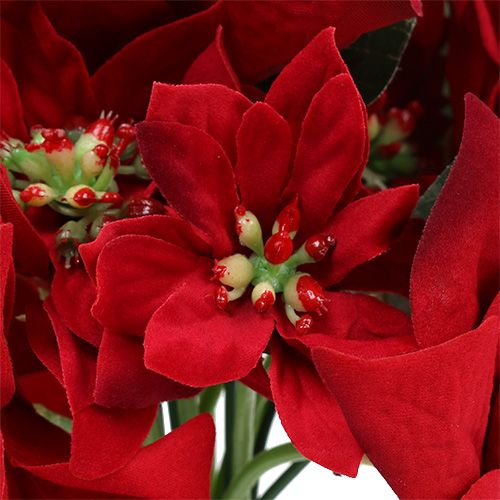 ---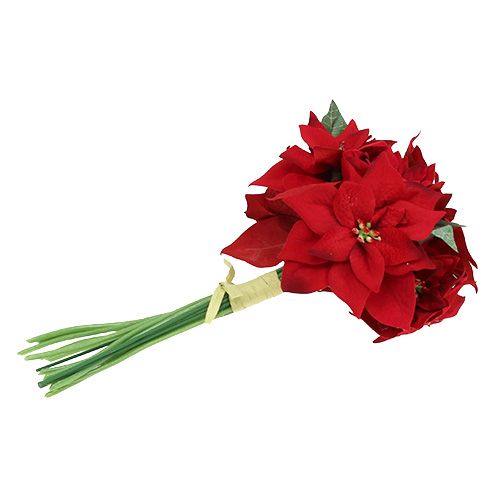 * All prices
excl. shipping costs
. Crossed-out prices correspond to the previous price. All prices exclude VAT and customs duties.
** Except prepayment. After the invoice amount has been credited to our account, we will process your order immediately.
Further categories matching your selection