Christmas decoration for hanging glass spigot red giant 27cm
£ 14,75
incl. 20 % VAT., excl. shipping costs
Product.Nr. 69295
weight 1.60 KG
delivery time 5-7 days

17 reviews, rated on average 4.7
17527
Christmas decoration for hanging glass spigot red giant 27cm
The giant among the Christmas decorations: the hanging glass plug is much bigger than you think!

As a classic Christmas tree decoration already known in hand-tame sizes, the stylized decorative cone is now the new star of original Advent decorations! Elegantly grooved, the slim cone tapers to a point and inspires us with the great light effects on the surface. Deliberate signs of aging in the red paint color under the glass reinforce the homely antique look.

It gets particularly Christmassy with candlelight or flickering LED lights. This year, hang up the decorations for Christmas above the table: Despite its impressive size, the table decorations are guaranteed not to take up any space! Golden ribbons and a couple of Christmas tree hangers or plant garlands create a surprising hanging decoration with the giant cone that matches the season, which will convince purists and nostalgics alike.

Of course, the huge glass jewelry can also be reversed and embedded in the middle of a flower arrangement! You should fix it well so that it doesn't tip over. Surround it with fir branches and real cones or create a sparkling decoration with an LED garland. Frosted twigs, artificial or real red berries or unusual accessories such as artificial golden ginkgo leaves harmonize wonderfully with top-class Christmas decorations.

The decorative glass cone impresses with its unsurpassed height of around 27 centimeters! The maximum diameter is around 17 centimeters. A metal ring is used to easily attach a cord or a decorative ribbon in the color of your choice. The glass decoration is delivered in a sturdy cardboard box.

Size: approx 27cm
Diameter: approx. Ø17cm
Color: red, copper, black
Material: glass, metal
Quantity: 1 piece

automatically translated to google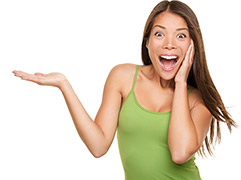 various payment options

97% positive customer reviews
weekly discount promotions in the newsletter
our YouTube channel explains many articles
extensive customer service

DHL World Package
Delivery will be made within 5-7 working days. The delivery period starts after conclusion of the contract and ends after 5-7 working days. If the last day of the period falls on a Saturday, Sunday or a general public holiday recognized at the place of delivery, the next working day shall be substituted for such day.
| | |
| --- | --- |
| Tiered pricing | Total price |
| to 5,00 kg | £ 4,00 * |
| over 5,00 to 15,00 kg | £ 6,50 * |
| over 15,00 to 30,00 kg | £ 19,50 * |
| over 30,00 to 60,00 kg | £ 39,00 * |
| over 60,00 to 120,00 kg | £ 62,50 * |
| over 120,00 kg | Please make a new order |
Our top offers November 2020
* all prices incl. 20 % VAT.,
excl. shipping costs
Crossed out prices correspond to the previous price.

more categories suitable for this article
You May Also Like
* all prices incl. 20 % VAT.,
excl. shipping costs
Crossed out prices correspond to the previous price.