Christmas decoration 2020
Christmas tree decorations and Christmas decorations for Christmas decorations
More categories
Artificial snow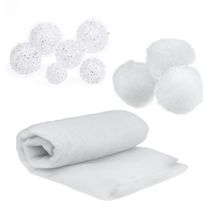 For a winter decoration artificial snow and ice crystals must not be missing. In our assortment we offer various forms of artificial snow, icicles, snowballs and snow stars. Our decorative snow is suitable for window dressing, winter decorations in shops or for Christmas decorations in the catering industry. Not only for professional decorators, but also for hobbyists and florists, our artificial snow products offer many creative uses.
Christmas winter decoration for Christmas trees, shop windows, gastronomy...
Candlestick, tealight & more
Candles are an integral part of Advent and Christmas. The warm light and the flickering of the flame radiate contemplation and coziness. Especially in the dark season candles and lanterns as a decoration are soothing to the soul.
In our assortment you will find many Christmas candlesticks, tealights and lanterns for your winter, Advent and Christmas decoration. Our colored candlesticks in star shape beautify not only your Advent wreath, but protect with the help of the drip tray that the wreath when burning...
Christmas ball
Every Christmas needs at least one Christmas ball! At Floristik24, the online shop for craft supplies and decorative items, you will find Christmas tree balls in many different sizes, classic and modern colors, with matte or glossy surfaces and for hanging, plugging and laying. In addition, the Christmas assortment is complemented by mirror berries, which are also available in a variety of variations.
So you can make your Christmas decorations in a classic way with red and golden balls or you can use jewelery...
Christmas decoration
When the first snow falls softly in front of the window and Christmas cookies in the whole house exude their irresistible scent, you are in the mood for the upcoming party with a tasteful Christmas decoration. Whether classical, modern or extravagant and glamorous: In our online shop you will find a large selection of fantastically beautiful Christmas decorations for every taste, which will increase the anticipation of the Christmas Eve in the immeasurable.
For an elegant, unique décor, you can for example...
Christmas Tree Decoration
Decorating the Christmas tree is one of the most beautiful rituals before Christmas. Year after year, Christmas decorations transform a green conifer into a festively decorated Christmas tree. In our online shop you will find cheap items for Advent decorations and Christmas tree decorations for hanging and placement.
Our Christmas balls, decorative reindeer, cones and Christmas boots provide a Christmas atmosphere in living rooms, as window displays, as table decorations and in the outdoor area.
Decorative plate
A beautifully decorated plate makes a festive table really perfect. In our assortment you will find inexpensive plastic plates for your Christmas table decorations. Whether as a base for the Advent wreath, as a cookie dish or decorated with candles - with the versatile Dekotellern can be implemented numerous ideas for your Advent decoration and winter decoration.
The Christmas plastic plates in square, rectangular or round shapes can be ordered online in different optics. The festive shades of red, silver and...
New Year decoration
With the New Year's Eve decoration by Floristik24, your online shop for decorative items and creative craft ideas, your New Year's Eve party is guaranteed to be a wonderful evening! Here you will find great flower decoration for your houseplants like plugs with a lot of luck saying, elegant table decoration like a black cylinder and funny decoration for your dresser like a happy chimney sweep figure! With the funny party items, you can either decorate a celebration at home or use it as a souvenir for a New Year's Eve...
Silk flowers and firs
The winter season comes up with their very own floral treasures. It is the season for poinsettia, Christmas rose and star blossom. In our assortment you get these and many other wintry plants as artificial silk flowers and plants. The deceptively real-looking artificial plants made of real silk, textile and high-quality plastic, we have put together especially for your winter decorations, Advent and Christmas decorations.
Fir trees, silk flowers and artificial plants for table decorations and...
So that in the Advent and Christmas time you and your customers shine many lights and beautiful decorations for Christmas atmosphere, we offer a comprehensive range of winter decorative items. Our range of Christmas decorations ranges from nostalgic to romantic to modern design. Browse through our large Christmas range and you will find the right items for your floristic finishing and decorations.

Festive atmosphere at Advent and Christmas with wintery decorative items

Here you will find numerous candles, candle holders and tealights for further processing for Advent wreaths, for Christmas trees or as a table decoration. Our fairy lights for inside and outside make house and garden shine in festive splendor. Whether Christmas baubles, glass stars or garlands - with our Christmas decorations you can design individual Christmas trees, atmospheric rooms and inviting banquets.
For Advent wreaths you get special accessories such as dried fruits and ornate saucers and fireproof Advent candles for plugging. Our deceptively real-looking silk flowers, artificial plants and fir trees are ideal for festive tables, wall and window decorations. Shop windows can also be stylishly decorated with our Christmas items. We offer artificial snow in all forms for winter decorations in shops or at home.
With our Christmas and Advent decorations you are well equipped for the festival of love.