Christmas ball plastic silver 6cm 10pcs
£ 3,00 £ 1,00 you save 67% (£ 2,00)
£ 0,10 per piece
incl. 20 % VAT., excl. shipping costs
Crossed out prices correspond to the previous price.
Product.Nr. 020171
weight 0.20 KG
delivery time 5-7 days
15 reviews, rated on average 5
3901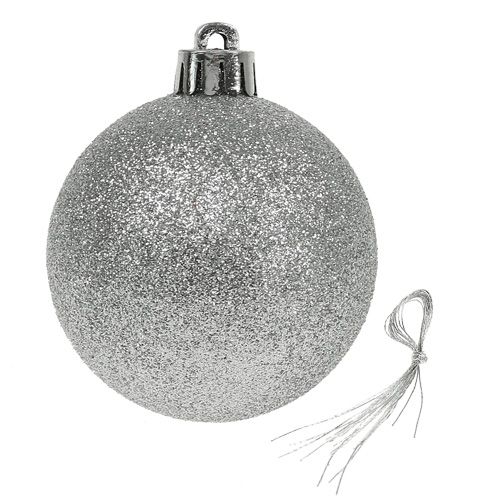 Christmas ball plastic silver 6cm 10pcs
An enchanting classic that must not be missing on any Christmas tree: the Christmas ball made of plastic in silver. The special feature of this model is that it is both extremely stable and elegant and chic and comes along in three appealing variants. In addition to three classic matt and shiny silver balls, the set contains four completely glitter-coated pendants. So you can combine the decorative balls very different and put on the Christmas tree or a bouquet of fir green in scene.

You will be assisted by the practical cones, through which you can thread the enclosed silver-colored band suspensions. The Christmas balls can therefore be hung directly from the package on branches and in the window or on the door, but also good for creative crafts use. For example, you can attach them to a Styrofoam ring blank using hot glue and combine them with other Christmas tree decorations in different colors. A loop of wide decorative ribbon makes the creation perfect: attach the modern Advent wreath, for example, at the front door or in the window.

The silver-colored Christmas balls made of plastic are offered in a set of a total of 10 pieces and including ribbon for hanging and are at a diameter of about 6 centimeters each about 7 centimeters high.

Size: approx. Ø6cm
Height: about 7cm
silver
Material: Plastic
Quantity: 10 pieces, sorted
£ 3,00
£ 1,00 *
you save 67% (£ 2,00)
various payment options, purchase on account
97% positive customer reviews
weekly discount promotions in the newsletter
our YouTube channel explains many articles
extensive customer service

DHL World Package
Delivery will be made within 5-7 working days. The delivery period starts after conclusion of the contract and ends after 5-7 working days. If the last day of the period falls on a Saturday, Sunday or a general public holiday recognized at the place of delivery, the next working day shall be substituted for such day.
| | |
| --- | --- |
| Calculation | Total price |
| to 5,00 kg | £ 5,90 * |
| over 5,00 to 15,00 kg | £ 13,50 * |
| over 15,00 to 30,00 kg | £ 26,50 * |
| over 30,00 to 60,00 kg | £ 52,00 * |
| over 60,00 to 120,00 kg | £ 104,00 * |
| over 120,00 kg | Please make a new order |
Our top offers December 2019
* all prices incl. 20 % VAT.,
excl. shipping costs
Crossed out prices correspond to the previous price.

more categories suitable for this article
You May Also Like
* all prices incl. 20 % VAT.,
excl. shipping costs
Crossed out prices correspond to the previous price.