Basket bowl with wooden stand White Ø33cm H9,5cm
£ 13,20

*
Basket bowl with wooden stand White Ø33cm H9,5cm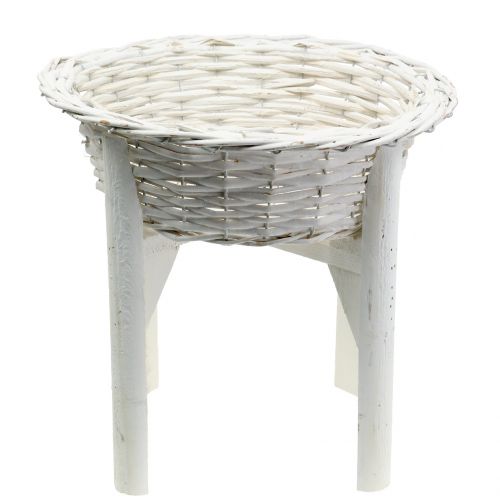 Delivery till 30. July **
---

Product description
DIY creative heads, professional florists and decorators will love this basket bowl with wooden stand! Made of high-quality natural materials, this piece of decoration impresses above all by its universal application possibilities. The collapsible stand is made of sturdy wood, while the basket is cleverly braided from natural wicker branches that are stably attached to a wire frame. Completely in the puristic color white, the planter promises to be a great element in almost every style of furnishing. Where it can bring about miracles, especially to a rustic country house decoration, it radiates not least a great coziness.
Equip the bast basket with seasonal flowers and plants by either using it as a planter or laying it out with a plant foil to be able to directly plant it. How wonderful an arrangement of primroses, pansies and daffodils in the spring decoration will look if you place it decoratively in your entrance area and thus welcome your guests invitingly. But even in the Christmas decoration, the basket bowl with stand will make a more than perfect figure, if you put your homemade Advent wreath quite decorative on the bast bowl and set up the ensemble in the living area.
The white basket bowl with wooden stand has a total height of about 33 centimeters. The outer diameter of the planter is about 33 centimeters, the inner diameter about 22 centimeters. Its height is about 10 centimeters, its depth at about 9.5 centimeters. The collapsible stand has a height of about 10 centimeters and a width of about 9.5 centimeters. Both elements are made of natural materials; while the stand is made entirely of wood, the Bast basket is additionally reinforced with a wire frame.
Total height:
approx. 33cm
Diameter planter (outside):
approx. Ø33cm
Diameter planter (inside):
approx. Ø22cm
Height of planter:
about 10cm
Deep planter:
ca. 9,5cm
Height of wooden stand:
approx. 30cm
Wide wooden stand:
approx. 28cm
Color
white
Material:
wood, raffia, metal
Quantity: 1 piece
Note: Accessories as well as decorative items shown on product images are not part of the product unless they are explicitly included.

Prod. nr.
: 63754
Weight
: 0,85 kg
Delivery till
: 30. July
**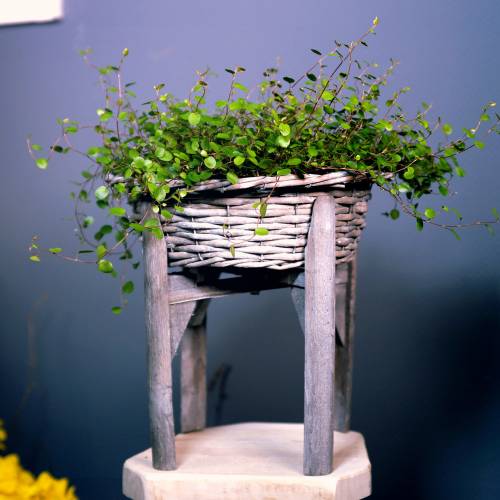 ---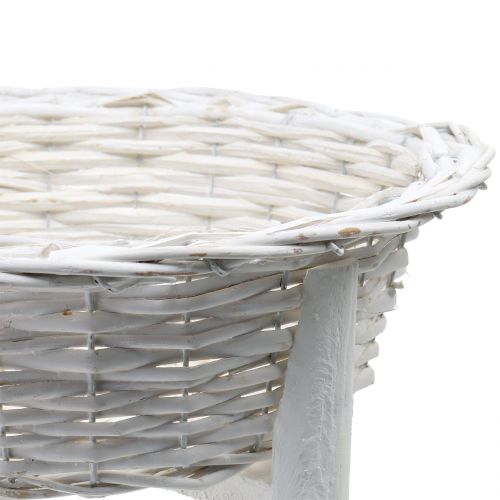 ---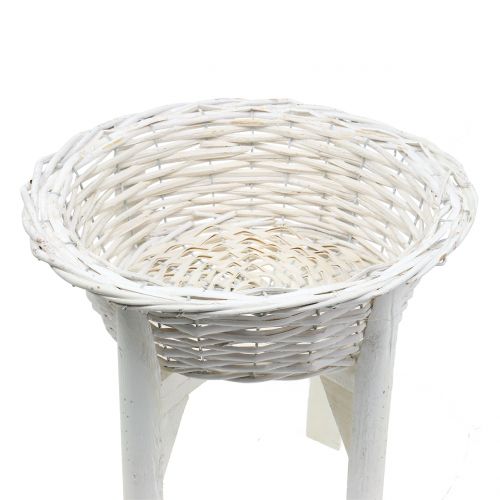 * All prices incl. 20 % VAT,
Excl. shipping costs
Crossed-out prices correspond to the previous price. Plus any applicable customs duties.
** Except prepayment. After the invoice amount has been credited to our account, we will process your order immediately.
Further categories matching your selection