Basket bowl with wooden stand gray, white washed Ø40cm
£ 16,20

*
Basket bowl with wooden stand gray, white washed Ø40cm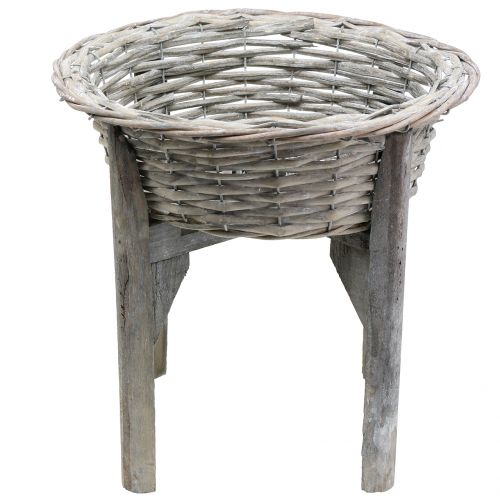 Delivery till 30. July **
---

Product description
Offer your guests a flowery greeting on the outside staircase of your house, planted in this gray, white-washed wicker basket with wooden stand. No matter what the season: the beauty of seasonal and regional plants is stylishly underlined and exposed by this raffia planter. Strongly colored plantings with autumnal branches and stonecrop in Indian summer, for example, can be contrasted with this basket vessel in a rustic way. In spring, the wicker basket brings out your daffodils or primroses. Do not forget to line the bast box with planting foil before planting.
With its production of sturdy natural materials such as wood and raffia wicker like this decorative basket fits wonderfully into decorative ensembles in the trendy country house style or shabby chic. While the stand is made of sturdy wood, the basket was made of rustic willow branches, which are stably braided around a wire fence. The high wooden stand ensures that your flowers are particularly good effect. Practical is that the wicker basket can be used without stilts and is therefore very versatile.
The gray, washed in the color white basket bowl with wooden stand has a total height of about 38 centimeters. The outer diameter of the basket vessel is about 40 centimeters, the inner diameter about 28.5 centimeters. Its height is about 10 centimeters, its depth at about 9.5 centimeters. The collapsible stand has a height of about 38 centimeters and a width of about 35.5 centimeters. Both elements are made of natural materials; while the stand is made entirely of wood, the Bast basket is additionally reinforced with a wire frame.
Total height:
about 38cm
Diameter planter (outside):
approx. Ø40cm
Diameter planter (inside):
ca. Ø28,5cm
Height of planter:
about 10cm
Deep planter:
ca. 9,5cm
Height of wooden stand:
approx. 36cm
Wide wooden stand:
approx. 35.5cm
Color:
gray, white, nature
Material:
wood, raffia, metal
Quantity: 1 piece
Note: Accessories as well as decorative items shown on product images are not part of the product unless they are explicitly included.

Prod. nr.
: 63757
Weight
: 0,85 kg
Delivery till
: 30. July
**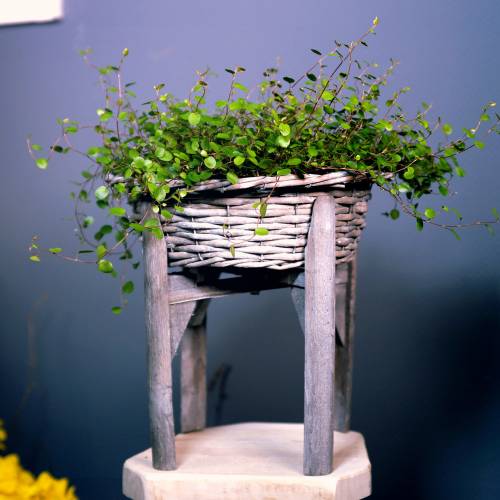 ---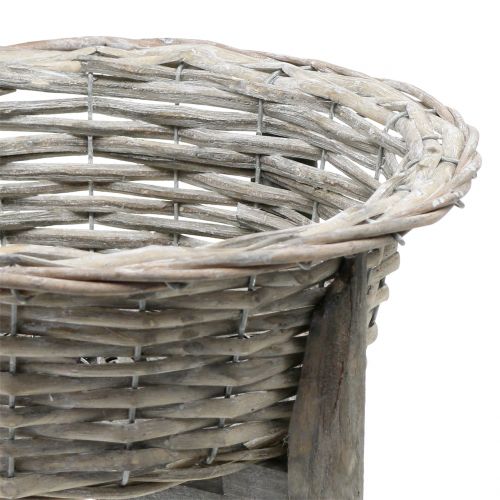 ---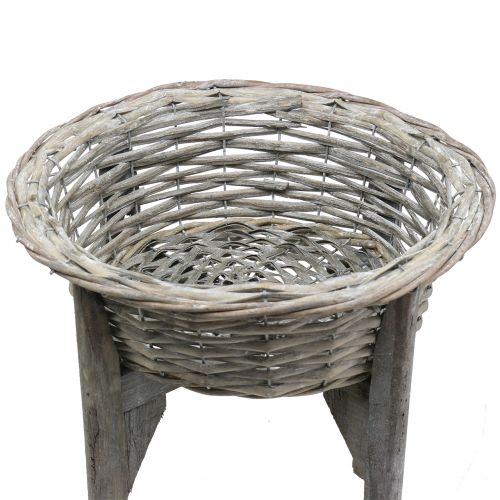 * All prices incl. 20 % VAT,
Excl. shipping costs
Crossed-out prices correspond to the previous price. Plus any applicable customs duties.
** Except prepayment. After the invoice amount has been credited to our account, we will process your order immediately.
Further categories matching your selection